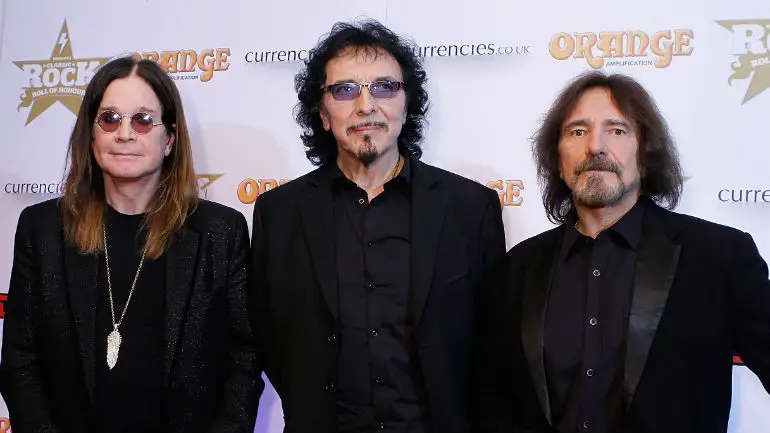 Celebrating 50 years of BLACK SABBATH, West Side business development and the city of Birmingham, England have proposed a new landmark immortalizing the founding fathers of heavy metal in the heart of Birmingham's city center most dynamic and entertaining destination, Broad Street.
The idea for the stretch of Broad Street over the canal next to Symphony Hall and the ICC to be called the Black Sabbath Bridge is one of a number of local initiatives to "create new significant visitor attractions for both locals and tourists from around the globe."
The Black Sabbath Bridge concept was created by Egyptian-born SABBATH superfan Mohammed Osama, now based in Dubai, who approached Westside BID on Broad Street. Artwork is being produced by Egyptian artist Tarek Abdelkawi, an illustrator, graphic designer and musician with an architectural background.
Osama told BirminghamLive: "If we get approval, all of the stars will be rearranged and the bridge itself will also be named after the band. The band members and their managements have been in the loop as well.
"My vision is to reunite the four original members for the unveiling of the stars and 'Metal Bench,'" he added. "I mean, just reunite them together at their hometown; no gigs or anything — just the four of them being celebrated together at their hometown would be the best ending and closure I could possibly think of."
The bench would bear the inscription "Geezer. Ozzy. Tony. Bill. Made in Birmingham 1968.", with portraits designed by Abdelkawi.
Born in Aston, Birmingham England and often cited as the pioneers and the godfathers of heavy metal music, BLACK SABBATH was founded in 1968 by Tony Iommi, Geezer Butler, Ozzy Osbourne and Bill Ward.