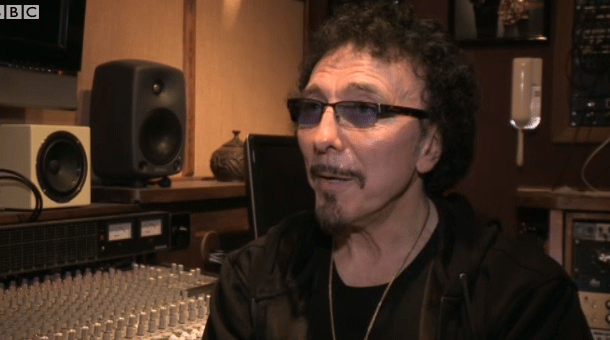 BLACK SABBATH guitarist Tony Iommi gave a new interview to U.K.'s Mirror in which he described his life three years after diagnosed with lymphoma, forcing him and the band to work around both the treatments and the recovery time needed afterward.
"13", the first SABBATH release in 35 years to feature Iommi, singer Ozzy Osbourne and bassist Geezer Butler playing together, was released in June 2013 and landed the band its first-ever No. 1 album in the U.S., also topping the chart in the U.K. and a number of other countries.
"After we released the album we went on tour and played 81 shows in 28 countries. I really enjoyed it, but it was tough," Iommi told Mirror.
"After the illness I got really tired. Every six weeks I had to fly home for treatment at the Parkway Hospital in Solihull, just outside Birmingham. I was hooked up to a drip and given an antibody that sort of coats the cancer cells and stops them spreading. Then I had to be home for two or three weeks recovering before I could join up with the band again."
He continued: "We had to plan the whole tour around my treatment. That meant a lot of travelling. And to make matters worse, flying affects my blood cells now because of the cancer. By the time I got to the hotel I'd have anxiety, the shakes, all sorts of things I'd never had before. It was so bad I began worrying whether I was going to be all right.
"It took me two months to recover after the tour finished, but the doctors said: 'What do you expect? You've been pushing yourself so hard.'"
BLACK SABBATH played its final show in support of "13" album on July 4, 2014 when the band headlined a massive festival in London's Hyde Park. Iommi thanked fans after the gig in a video message, hinting that the SABBATH would tour again.
The guitarist told Mirror: "I finally finished my antibody treatment over the summer. It's good in a way because I have more energy now, but I still don't know whether the treatment worked."
He continued: "Because I had two different operations at the same time, one on my prostate and one on my lymph nodes, I had too many scans last year and too much radiation. So I can't have any more scans yet. Every day I feel around for lumps and bumps. Every time I get a pain in my stomach I think, 'Oh God, it's cancer.' It's horrible. I even dream about it. But that's my life now."
Iommi added: "The surgeon told me he doesn't expect the cancer to go away. There's a 30 percent chance that it could, but more than likely, it will come back and it could be any time.
"I look at life differently now. I could be here another 10 years or just one year — I don't know."
Ozzy told The Pulse Of Radio that Iommi never let his treatments slow him down during the making of "13". "My hat goes off to him 'cause he really is Iron Man," the singer said. "I mean, that chemotherapy knocks you sideways, you know. I mean, when my wife had cancer a few years back, she was having three chemo things a month and it would knock the life out of… Literally every time she'd have a treatment, she'd have a seizure. It's scary stuff. But he came down, plugged in and carried on. He's my hero, I swear to God he is."
Osbourne told Metal Hammer magazine last September that BLACK SABBATH will record a new studio album in 2015 and head out on one final tour. He said: "The whole SABBATH experience this time around was great. We all made friends, we didn't f**k around, we all knew that we had a job to do, and we did it. It was a lot of fun. So we're going to do one more album, and a final tour."
Although the band had yet to write any new material, Ozzy added, "It'll be sooner rather than later. Obviously a lot of it is coming down to Tony's health, he's obviously got his cancer treatment, but we'll get onto it next year. I don't know if we'll be writing in England or L.A., but I'll fly to the f**king moon for it if I have to!"
Ozzy said that Rick Rubin, who produced "13", will likely be back for the next project.
Butler said in an interview that the band had four tracks left over from the sessions for "13", which could give them a head start on writing the next album.
 
Source: Blabbermouth