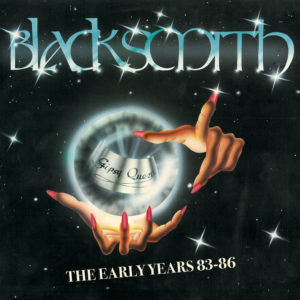 Some say that music gets outdated. Most of them who say that are popers or critics whatsoever that are interested in forcing changes and new 'fevers'. I really don't buy that. Of course, there are some bands that are really disposable and forgettable, but even though, for some. Metal music has been around since the end of the 1960s and lot went on. Lots of changes, lots of artists and bands, certainly lot of tendencies as well. To many Blacksmith will sound outdated. It begins by the title "Gipsy Queen." I don't know why the gipsies were a permanent inspiration to many Metal artists in the 1970s and 1980s. Besides that, Blacksmith is a band that will enjoy the fans of 1980s Metal music because Blacksmith is the real deal. "Gipsy Queen" was first released in 1985 and now it's reissued by No Remorse Records and producer Bart Gabriel whose restless work to take back lost gems seems to be unstoppable.
"Gipsy Queen" is a nice piece of 1980's Metal, however there are lots of undisguisable touches of the 1970s which makes Blacksmith a very interesting band. Though songs as "Tomorrow's Mystery" are perfect gems of the so-called heavy pop – today's term is Melodic Heavy Metal: a lot of melting keyboards, sugared choruses, and hidden guitars. But compared to today's pop, "Tomorrow's Mystery" soundsgreat. Well, that was part of the game back then. Metal bands had to record watered ballads to strike hits. You know what, the keyboarding in "Gipsy Queen" is very interesting because, except in "Tomorrow's Mystery," its tones and sounds are far from the usual, even for that time. It had a pallet of sounds to show that made Blacksmith's music peculiar and worthwhile listening. Not to forget the guitars shred by Robert "Bobby" Holmberg which style is pretty concise to the best players of the time. He could be fast as Yngwie and precise as Slash. Very nice guitar playing.
What calls the eye in "Gipsy Queen" is the songwriting. I'd stress it out to "Hiroshima," a great piece made by Blacksmith. Take also a look on the guitar solo in "Angel." It's amazing.
"Gipsy Queen" Blacksmith was released on September 28th via No Remorse Records.
Track Listing:
Gipsy Queen
Take Me Home
I Don't Know
Lying Eyes
Tomorrow's Mystery
The King Has Lost His Crown
Angel
Hiroshima
World Victim
Watch "Gipsy Queen" video here: