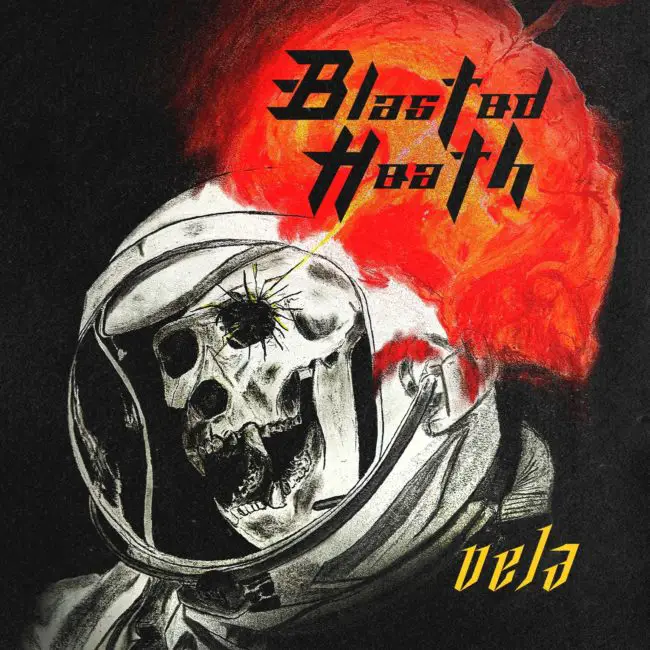 Layman's opinion about Black Metal is that it's the most monolithic and changeless style around Metal music. Well, layman think Metal music doesn't change either so Black Metal changes less than Metal. Interestingly, my experience of those years writing reviews here showed just the opposite because the most challenging and innovation oriented albums I heard were Black Metal or better yet, the most challenging and innovation oriented albums were Extreme Metal. In order to stand out from the crowd many bands tried to reach the unexpected. They tried to sail away around unknown waters searching for the best sonic experience they got. So, to get the best experience many bands made unusual mixes and tried uncanny sonorities. That's exactly what my dear child of the night will find here with Blasted Heath and their debut album "Vela" whose prone to vary and get different sounds is perceptible.
The music inside "Vela" is challenging and unsual though it's clear that Blasted Heath searched for their inspiration in 1980s early Black Metal bands. My dear child of the night will find something different from the very beginning of "Vela" and its album opener "Big Chill" whose electronic effects bridge to a 1980s Venom inspired slaughter. Soon the guitar overtones full of echoes and dissonances will make my dear fan wonder where all these come from. By the way, the guitars are always looking for different techniques and sonic experiences. "Vela" is in no way monotonous or monolithic. To some extent, some of the effects the guitar uses here are near to what The Cult used to do during the "Love" era. There is no track here that is similar to each other. They're all different and go to different directions. What connects them is the guitar effects and the will to use lots of effects. Tracks as "Dark Energy" showcases these winds of change as the guitar uses lots of dissonances and guitar squeaks. The effects Led Zeppelin's Jimmi Page used to get are a great example of what guitarist Billy DeRocker can get from his instrument. The echoes and the tremolos come from him. Though the most different track is "The Wind in Vela" which starts with some conversation. The track then falls into an atmospheric mood with a clean guitar that suddenly bursts with lots of distortion and an angry cadence. "The Wind in Vela" is moody to the bone. The grand finale "Strange Matter" is grand and epic to close the album with flying colors.
Though moody and full of effects "Vela" is angry and desperate as it's expected from a Black Metal band. Blasted Heath went beyond their inspiration in 1980s early Black Metal bands shaping an full of surprises. The good ones I mean.
Blasted Heath "Vela" will be released on August 12th via Wise Blood Records.
Track Listing:
Big Chill
Ape
Europa
Dark Energy
Neutron Star
The Wind in Vela
Strange Matter