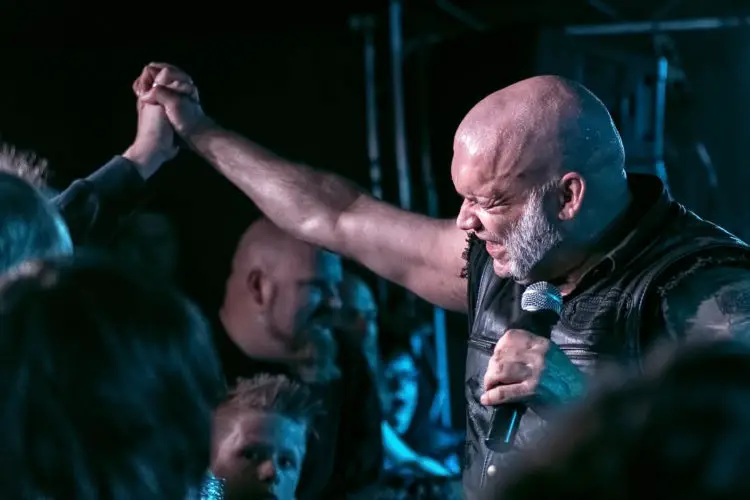 BLAZE BAYLEY is a singer/songwriter born 29th May 1963 in Birmingham, England. Having started his professional music career in WOLFSBANE in 1984, his career elevated to global heights when he joined IRON MAIDEN with whom he released two albums and toured worldwide between 1994 and 1999.
After leaving Iron Maiden, Blaze embarked on a solo career, during which he has released 10 albums and has enjoyed an enviable reputation as one of the hardest working artists touring worldwide.
In 2015 Blaze celebrated the 15th anniversary of his first solo release 'Silicon Messiah' and in 2016-2018 has seen a significant resurgence of interest in his career, not least with the release of 'Infinite Entanglement' – a trilogy of album releases based on a sci-fi concept. Part I was 'Infinite Entanglement' released in March 2016, Part II 'Endure and Survive' in March 2017 and the concluding Part III 'The Redemption of William Black' was released in March 2018. Each of these releases was promoted with Europewide tours, plus in 2017 a tour of North America.
After completing the second leg of his 2018 full metal tour in September (Germany, Austria, France, Netherlands, UK), Blaze will be releasing and touring a new classical acoustic album entitled 'December Wind,' co-written with classical acoustic guitarist Thomas Zwijsen who is known for his arrangements of famous rock and metal songs performed in a classical style.
This album was again co-produced with Chris Appleton and mastered by Ade Emsley. The album also features a version of '2AM' from the "X-Factor" album of Blaze's Maiden era. Additional instrumentation comes from Anne Bakker on violin. The album will also carry as bonus tracks the 5 songs previously released as the 'Russian Holiday' acoustic album, including a version of Iron Maiden's 'Sign of the Cross' again from Blaze's era with Maiden.
'December Wind' is earmarked for an official release date 9th November and a tour (12 dates) is in course of being confirmed now for Switzerland, Italy, Czech Republic and Poland. Thomas Zwijsen plays classical guitar on this tour and is joined by violinist Anne Bakker in Switzerland and Italy.
Looking ahead to 2019 Blaze is planning to continue the full metal world tour with a trip to Latin America in January, Europe in February/March and North America in April/May, as well as summer festivals with quite a few already waiting to be announced.
2019 is also the 25th anniversary of Blaze joining Iron Maiden so something special will be in the works to celebrate that.
Read our review here.