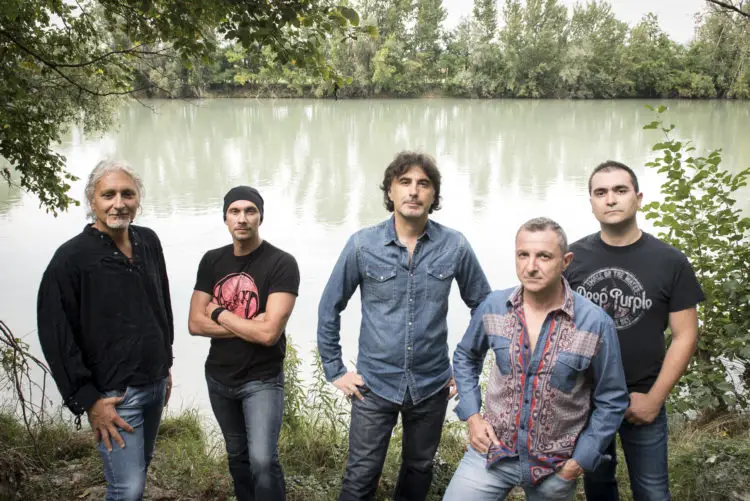 Blind Golem are a new project born out of a lifelong passion for classic hard rock, with a big Hammond organ, screaming wah-wah guitars, massive choruses. The original seed comes from members of the seasoned hard blues band Bullfrog (5 albums) joining with members of the tribute band Forever Heep, dedicated to the classic Uriah Heep repertoire, that played several times as a backing band for Ken Hensley himself, founding member of Heep. After several shows, the idea came to produce an album of original material in that same vein of melodic, epic and powerful hard rock and so, with Ken's blessing, Blind Golem were born! Debut album, "A dream of Fantasy" is an exciting journey in that magical wonderworld first created in the seventies by bands like Magnum, Rainbow, Lucifer's Friend and of course Uriah Heep.
To add depth to the occasion, the late great Ken Hensley himself is guesting on the album, playing Hammond organ and slide guitars, for what is one of his last recorded sessions, before his untimely passing last November.
Cover art was made by none other than the legendary Rodney Matthews, responsible for countless classic covers for bands like Thin Lizzy, Nazareth, Magnum, Diamond Head, etc.
The members of Blind Golem all come from experienced bands, having released several albums with Bullfrog, Rocken Factory and Forever Deep, and played thousands of shows through the years backing rock legends like Don Airey, Roger Glover, Ian Paice, Bernie Marsden, and opening for Uriah Heep, John Lawton, Uli Jon Roth, Dan Baird, Doug Pinnick.
"A Dream of Fantasy" comes out in January 2021 on Andromeda Relix!
Band Line-up:
Andrea Vilardo, lead vocals
Simone Bistaffa, Hammond Organ, Piano, Keyboards
Silvano Zago, Guitars
Francesco Dalla Riva, Bass, Lead & Backing Vocals
Walter Mantovanelli, Drums
Read our review here.