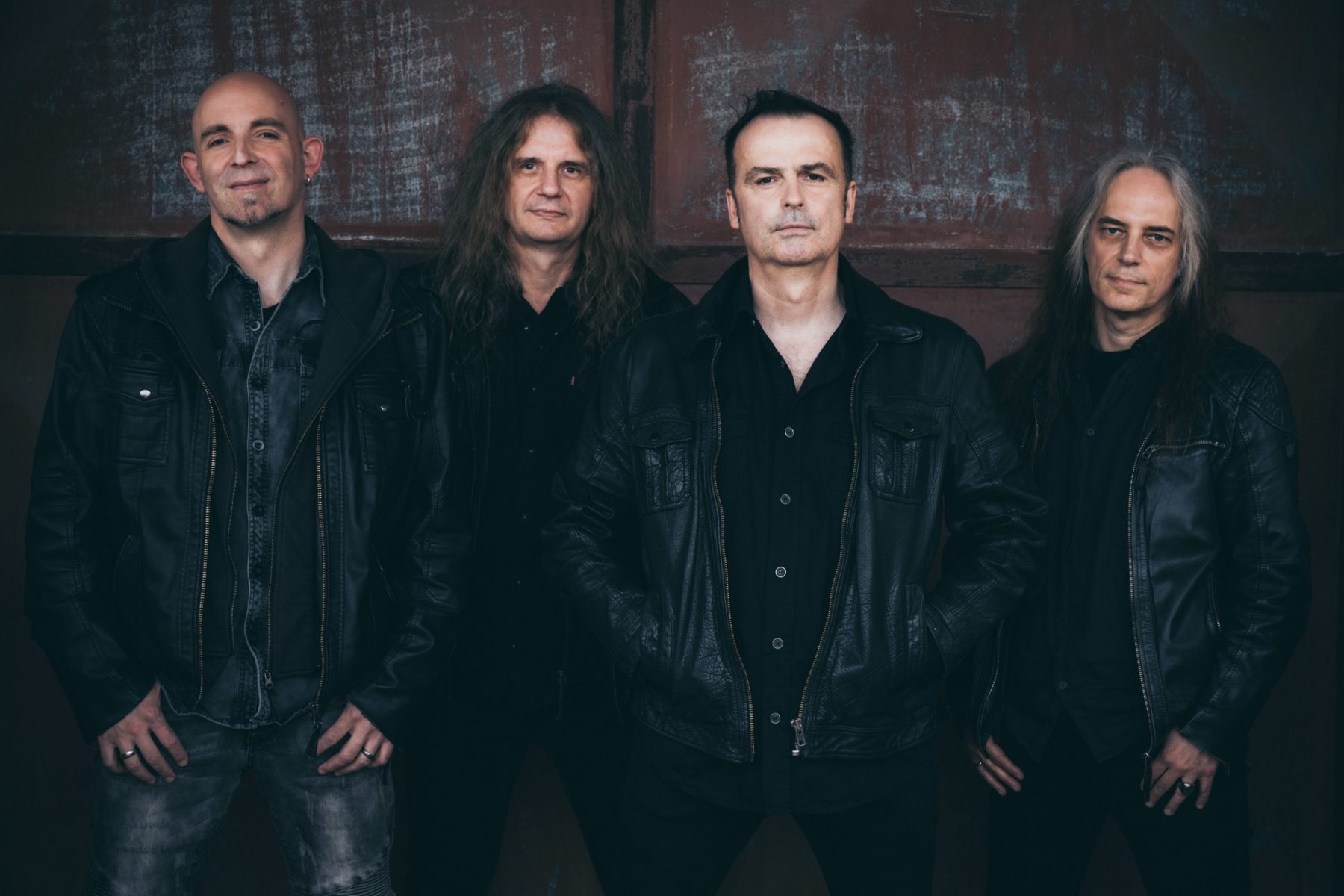 In 1992, BLIND GUARDIAN released "Somewhere Far Beyond", a legendary milestone of German speed metal. Three decades later, their latest offering, "The God Machine", shows how to awaken the fury of youth to magical new life. As if they had paid a long overdue visit to the numerous highlights of their career, BLIND GUARDIAN appear to be in touch with the ghosts of their own past more than ever. "We've picked up a lot from our own history and built a new era upon this foundation," vocalist Hansi Kürsch explains.
This new era begins right now. Seven years after "Beyond The Red Mirror" and almost three after the orchestral opus "Blind Guardian Twilight Orchestra: Legacy of the Dark Lands", Hansi Kürsch (vocals), André Olbrich (lead guitar, acoustic guitar, rhythm guitar), Marcus Siepen (rhythm guitar and acoustic guitar) and Frederik Ehmke (drums) invite you to their personal twilight of the gods. "After 'Beyond The Red Mirror' and 'Legacy Of The Dark Lands', we knew we couldn't push the orchestral side of BLIND GUARDIAN any further," Kürsch says. The new directive while creating "The God Machine" was fairly straight-forward but ever so welcome: "Less orchestration, more punch." In 2022, the opulent arrangements and powerful choirs still exist; yet they are used in a much more selective, focussed and resonant manner.
BLIND GUARDIAN and producer Charlie Bauerfeind wanted to emphasize the band in its essence, and the result is nothing but absolutely mind-blowing. "The God Machine" is a compact, aggressive, dynamic album, refined with cinematic moments, archetypal melodies and epic grandeur. It also closes the ranks between past and present by not ignoring their recordings of late and rather consciously rebalancing complexity and impact in favour of the latter. It is the "Imaginations From The Other Side" of 2022, unleashed by a band that has had 27 more years under their belts to perfect their style. Kürsch: "We didn't want to rehash our qualities from 1995, but didn't want to continue down this complex path forever either. 'The God Machine' is a new beginning for us. We've set a new course and gone back to certain things that we've neglected a bit on the last few albums."
"The God Machine" fully embraces evolution while honouring the roots of a band that started humbly in Krefeld, Germany as speed metal act Lucifer's Heritage in 1984. After renaming to BLIND GUARDIAN in 1987, they constantly kept honing their craft and released legit metal classics like "Tales From The Twilight World" (1990), "Somewhere Far Beyond" (1992), "Imaginations From The Other Side" (1995), and "Nightfall in Middle-Earth" (1998), albums that formed a strong bond between metal and fantasy literature that is second to none.
This link is overtly present on the stunning, apocalyptic cover art by American fantasy icon Peter Mohrbacher, which teases a panopticon of fantastic tales and rather bleak prospects. "You have to look with a magnifying glass to find some hope on the album. But it's there," smiles Hansi Kürsch. "My lyrics have several levels. Some of them even I can only explore much later." Perhaps "The God Machine" is his most personal album since "Somewhere Far Beyond", which he wrote in the shadow of grief over the death of his father.
Even if Kürsch's lyrics are inspired by the fantasy works of Patrick Rothfuss or Neil Gaiman's "American Gods", Brandon Sanderson's "Stormlight Archives", "The Witcher" novels or even "Battlestar Galactica": The backgrounds are clearly more real, and thus all the more ruthless. "The God Machine" deals with modern witch-hunts, paranoia, war or the death of Kürsch's mother, and puts these grim themes into some of the fastest and heaviest BLIND GUARDIAN songs in years. "Violent Shadows" is an onslaught of thrash riffs and relentless drumming, "Architects Of Doom" pleasantly reminds of "Follow The Blind", the sublime "Secrets Of The American Gods" is one of the most outstanding epics since "Nightfall In Middle Earth", and the raging "Blood Of The Elves" is the galloping anthem that is destined to become a live staple.
"The God Machine" marks another pinnacle in BLIND GUARDIAN's impressive discography by not attempting to pretend it is still the nineties yet instead successfully relying on the muscle memory of this period. It is a gripping, addictive and brilliantly arranged album in the tradition of records with which BLIND GUARDIAN reached for the stars in the 90's; yet, by no means, is it a throwback. "The God Machine" represents the heart and soul of BLIND GUARDIAN's timeless metal in the here and now, unifying the bards' past, present and future secrets in one consistent, well thought out masterpiece.
Read our review here.