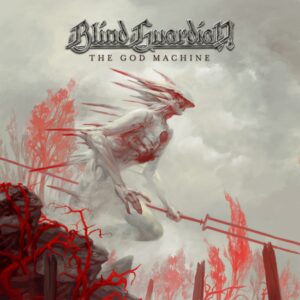 This week promised to be a very calm one with very few releases. As usual, Nuclear Blast Records decides to send us their releases on the eleventh hour. No wonder and worries as they have real worries about having their albums being illegally downloaded if they put them out earlier. Being aware of that it was a surprise when I saw this Blind Guardian "The God Machine" in my e-mail. I just thought Yay! Wow! Hey! Cool! and many others as Blind Guardian are one of the bands I do have a history. Even though they're not a band I met later in my life and not in my teens as many others. The bands we met in our teens are always the most remembered. I met them in 1998 when I was working for a localization company and they were a kind of representation of my step ahead into Metal music. That time was when I started to get to know many other bands than the ones I met during my teens. The complete new world of the 1990s was being opened to me. So, Blind Guardian have a very special in my heart. Their first album I've ever heard was the great and phenomenal and seminal acoustic album 1990's "Tales from the Twilight World" and right after their alive album the 1993's "Tokyo Tales."
As all the bands I love, there are times that I loose track of their lives. No special reason why. It's only a fact of my life. I can't remember which one was them last album I heard. Maybe it was 2000 "A Night at the Opera" and its bold and heavy symphonic influenced repertoire. Although I was used with Blind Guardian trend to change and go farther to reach other horizons with their music I was kind of surprised with the change of heart. I guess that's why I lost track of their career for a while. Ok, then, but not entirely because I'm able to say that this is a "The God Machine" kind of mix of the good old times – not that old as I mean "Tales from the Twilight World" and "Tokyo Tales"era – with the more symphonic and melodic era. This album is exactly this. A perfect match with both. The kind of album that will conquer back the die-hard fans and at the same time please the newbies. Not exactly a masterpiece but a truely remarkable abum.
Welcoming track "Deliver Us from Evil" welcomes – hum, redundant – the fan to Blind Guardian's best times. Vocalist Hansi Kürsch is still sharp with his unique voice that combines melody, finesse, and vocal power and range. He's one of the most unsung vocalist of Metal music in my opinion. His voice is really something. The guitar duo André Olbrich and Marcus Siepen is also sharp and commited to give Blind Guardian's music the needed power and reach besides being one of the reasons the band's music stand out from the crowd. It's possible to say that their twin guitars are really unique as well.  One can listen to them and immeadiately recognize the band. That's really one in a million. "The God Machine" recovers all this to the fan. Pure Blind Guardian's best. So, without much ado I'll invite my dear fan to listen to the album and then tell me.
Blind Guardian "The God Machine" will be released on September 02nd via Nuclear Blast Records.
Track Listing:
Deliver Us from Evil
Damnation
Secrets of the American Gods
Violent Shadows
Life Beyond the Spheres
Architects of Doom
Let It Be No More
Blood of the Elves
Destiny
Watch "Secrets of the American Gods" video here: