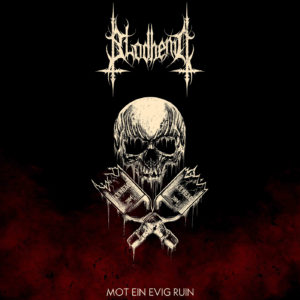 The more I hear bands like Blodhemn, the more I have faith that Metal is never die. How can you possibly mix all the pain, despair, and grief that Black Metal is all about with some even happy and joyful instrumentals? You may say 'No! That's not possible!' And I tell you "Yeah, it is" because I know of a band that does it perfectly. The name of this band is Blodhemn, a one-project man that is one of the creative and innovating things I've heard during these two years and half with Metal Addicts. My guess is that Blodhemn dude –  his moniker is Invisus. Yeah, I know not that innovative, but give the dude a break -, spends all his time on thinking how can he surprise us the most.
The strength and power tracks as "Uante Krefter I Fra Nord" passes us is simply fantastic. The rhythm and solo guitar solo in the middle of this song makes you wanna bang forever with a simple and contagious uptempo drumming. Picture this instrumental with an eerie grieving voice. Perfect! You gotta it. "Uante Krefter I Fra Nord" is almost linked to "Dra Te' Helvete" which keeps the pace – and the faith. I have to say that Blodhemn got exactly the spirit of Black Metal. In case you don't remember the spirit is to be the most groundbreaking and powerful ever. But don't go thinking songs are complex and full of intricate and unknown harmonic progressions. Not even a bit. They are simple, but effective. The motto is to be high-adrenalized and octaned as pure Heavy Metal should be.
I tell you, my child of the night, you'll regret if you don't have Blodhemn "Mot Ein Evig Ruin" at your home. An unforgetable album for that are a Black Metal fan, and even for you that is about to go black. It's worth it. Believe me. BTW, go right to the eighth track "Mot Midnatt" and you'll know why I got so excited about Blodhemn. Almost eight minutes of pure delight.
Blodhemn "Mot Ein Evig Ruin" will be released on February 15th via Soulseller Records.
Track Listing:
Ruin Intro
Det Gjekk Ein Faen
Dogenikt
Ostfront
Nordhavs Speil
Uante Krefter I Fra Nord
Dra Te' Helvete
Mot Midnatt
Watch "Dra Te' Helvete" official video here: