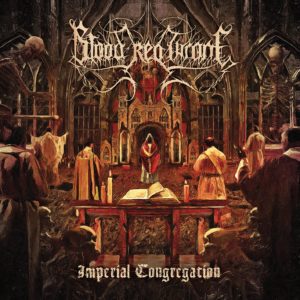 It's insane to think how many kinds of vocals there are in Metal music, isn't it? I guess – maybe, just maybe – Metal is the only musical genre in this sad and lonely and pathetic little planet that allows all kinds of vocals in a song. It's possible to go from the soprano or tenor kind to the most natural ever with no idea to be the tunest possible. Of course, we metalheads couldn't accept vocalists that have no clue of what they're doing. At least they must have a very personal voice and, of course, tuned. And some say that Metal is a square thing. Go figure.
Here we have Blood Red Throne "Imperial Congregation" with an extra low cadaverical out of this world vocals that make all the different contrasting with the cool and most of the times melodic instrumentals. Make no mistake, Blood Red Throne don't get near an inch of Melodic Death Metal what makes them even more interesting. I find it amazing how the band manages to cope both things maintaining the Death Metal butchery and slaughtery thing alive. Vocals make all the difference I have to say. The guitar work here is pretty amazing and the guitar duo Daniel "Død" Olaisen and Ivan "Meathook" Gujic sound very concise and precise. The impression the fan gets is that the guitar duo works as a clock with all the precision they deliver in the songs. The guitar licks in "6-7" give the fan this precise idea. Solos are also well-planned and in their right time. Other times as in "Consumed Illusion" the band sounds a bit Technical with the astonishing mesmerazing guitar riffing and all the changes in tempo and playing as the riffs go changing at the band's will. Well, of course they change at the band's will. You got it my dear fan what I'm trying to say. I really like the driving force that makes a band build a wall of sound like it's possible to hear in "Hero Antics." The effect is really amazing.
With albums like "Imperial Congregation" it's possible to see why Death Metal is still the driving force of Metal music. Besides playing what the fan wants to hear, Blood Red Throne innovate in their playing and presenting new ideas. The idea here is to keep strongly to the roots and cement the new ideias for the future. That's what Metal music is always doing. One eye in the past and the other eye in the future. That's how Metal constantly evolves.
Blood Red Throne "Imperial Congregation" will be released on October 08th via Nuclear Blast Records.
Track Listing:
Imperial Congregation
Itika
Conquered Malevolence
Transparent Existence
Inferior Elegance
We All Bleed
6-7
Consumed Illusion
Hero Antics
Zarathustra
Watch