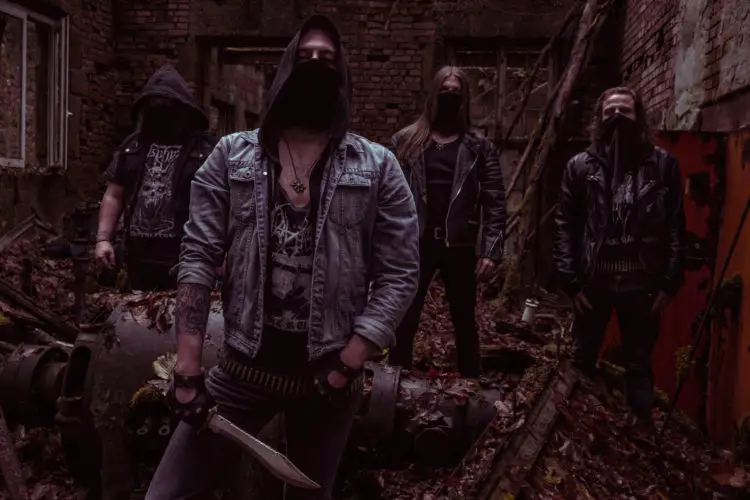 BLOOD TORRENT were founded in 2005. Despite several line-up changes, frontman H.A.V.O.C and guitarist Erebos were consistent members of the band, so during the years there was always active songwriting and performances with genre greats such as Dark Fortress, Eisregen, Possessed or 1349.
As fans of the first wave of Black Metal and Heavy Metal / Hard Rock of the 70s and 80s, the band members developed their own individual style: Black Metal with progressive elements and influences of classic Hard Rock and Punk.
The name is derived from the idea that Blood is the secret and origin of life and death. Blood means birth and transformation. Sacrifice and death. As long as blood flows, existence is in flux. Lyrically, the songs contain elements and themes from various artists and authors such as Leonardo Da Vinci or George Orwell and address existential theory, misanthropy, subversion, social and system critical content and also deals with topics such as mental illnesses or the relationship between humanity and nature.
After several self releases, BlOOD TORRENT now present their new album via Trollzorn Records; with a natural sounding recording especially considering the drums and guitars.
"Void Universe" is not a concept album itself. However, there is a recurring theme within its lyrics: it is about the argument of self-extinction within the Fermi paradox. It raises the question of what would happen if society could start again. And according to the argument of self-extinction, every high culture will always self-destruct from a certain point on. No matter how often it could start over. It is a pre-programmed collapse of civilizations and appears to be an irrefutable law of nature. This principle is particularly important to mankind. And in any case, it shows that the whole cosmos is changing. Transformation is also a big lyrical topic, like in "The Cosmic Breakdown" or "Decay and Transformation."
Read our review here.