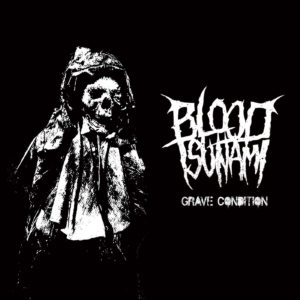 Yeah, right in the face thrash metal! Fast, furious, and fierceful. That's what "Grave Condition" has to offer us. Pure old school thrash, and a very angry one. Blood Tsunami do follow the tradition of fast riffing and outrageous speed. Despite all that, "Grave Condition" could find some time to feature us some cadenced and more melodic songs like ""Gargoyle" and "The Acid King." Neverthless, Blood Tsunami are very addicted and attached to the 1980s thrash sonance, in my opinion, the best. Calling them retro band is something they would love, I have no doubt about that.
Though, in the midst of all the sonic violence, "Grave Condition" offers us some moments of finesse like in "In the Dungeon of the Rats," where the guitars do some magical smooth moments. but, the main purpose is to join Thrash Metal speed with some dashes of hardcore violence as in "For Faen i Halvete." But not so much finesse, the intent here is pure sonic violence as only thrash metal can offer us.
I guess that no band has ever done more justice to a name than Blood Tsunami, because that is really what "Grave Condition" is, a tsunami of violent, fast, rageful, and angry album. It is an album for whom is in the mood of nonstop headbanging for more than thirty minutes. Press 'play' and be ready for a tsunami of great good old 1980s thrash.
Blood Tsunami "Grave Condition" will tsunami your house on April 27th via Soulseller Records.
Track Listing:
Poison Tongue
The Allegory of the Cave
The Collapse
Gargoyle
The Acid King
The Cruel Leading the Fool
In the Dungeon of the Rats
For Faen i Hælvete!
Steel Meets Steel
Watch "Poison Tongue" official video here: