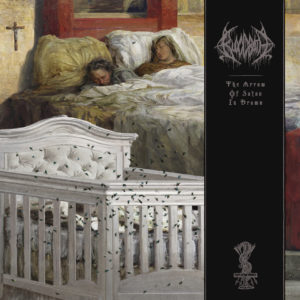 In case you haven't noticed yet, my child of the night, Metal Addicts is bringing you the big guns now. It means that top notch bands are being reviewed here. Bloodbath are one of them. A band that teaches a lesson of what an avant-garde Black Metal is capable doing. Strong and ferocious riffs, killing vocals, pounding drums, thunderous bass. "The Arrow of Satan Is Drawn" is the album you must show your friend that is interested in knowing Black Metal better. There is no way he's not gonna love it. I seriously doubt that.
The most overwhelming thing in "The Arrow of Satan Is Drawn" is guitar riffing. I mean the way Blakkheim and Joakim create their riffing is memorable. "Warhead Ritual" is a good example that with creativity one can do a lot because besides the insane effect they brought to the main riff, it sounds a bit taken from a grunge band. Yeah, you read it right. The effects they brought into it are very similar to the one some grunge bands used to do. It gives the song a very weird, but interesting grip. In general, guitar riffing in "The Arrow of Satan Is Drawn" is vigorous. A great thing that happened to Extreme Metal bands was that they left away those indistinguishable fuzzy guitar riffs to choose crystal clear ones. The outcome is that their music got more ferocious and strong. Take a look in how insane riffs are in "Fleischmann" even though full of effects. It's for sure the strongest song in "The Arrow of Satan Is Drawn."
"The Arrow of Satan Is Drawn" is an album that brings a lot chaos to the listener. But, make no mistake, that's exactly what we want. Bloodbath are a band that stick to their formula of building up songs with something else. Listen to the killer intro of "Bloodicide" and how mesmerizing it can be. That what makes Bloobath one of the best bands of these days.
Bloodbath "The Arrow of Satan Is Drawn" will be released on October 26th via Peaceville Records.
Track Listing:
Fleischmann
Bloodicide
Wayward Samaritan
Levitator
Deader
March of the Crucifers
Morbid Antichrist
Warhead Ritual
Only the Dead Survive
Chainsaw Lullaby
Watch "Chainsaw Lullaby" official lyric video here: