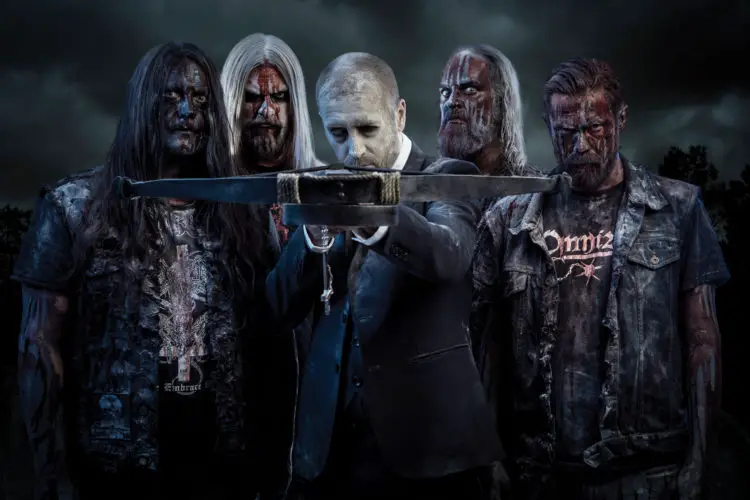 Like all gore-drenched sequels, demonic death metal supergroup, Bloodbath's fifth slice of morbid savagery comes even darker, nastier and sicker than before. It's been four years since "Grand Morbid Funeral," and Stockholm's shadiest death cult – with members drawn from metal luminaries Paradise Lost, Katatonia, Opeth and Craft– return with a new slab of old-school, HM-2 driven blackness: "The Arrow Of Satan Is Drawn"
Recorded by Bloodbath and Karl Daniel Liden, at Ghost Ward, City Of Glass & Tri-Lamb Studios,during the first half of this foul year of our Lord, the album is the second with Old Nick on vocals. If "Grand Morbid Funeral" was a thick spray of deathly noise, on "The Arrow Of Satan Is Drawn," it is the rotten, fetid state of the world and our inevitable doom that is casting a looming shadow over proceedings. With world leaders threatening nuclear annihilation in 140 characters over social media, capitalism tearing itself apart, a wilful march into a surveillance state via handy pocket spying devices, a shifting climate that appears to literally be trying to kill us… It's all fuelled Bloodbath's newest ode to filth.
"What are we presenting with this album? Humanity's unfaltering march prone towards downfall," declares guitarist Blakkheim. "The threat to this world isn't from far beyond the sun, the enemy is right here, within the walls. Only the god of emptiness will survive us all. The arrow of Satan is drawn!
Right from the opening notes of the scything "Fleischmann," this sense of impending horror is carved into the music. The brutal "Wayward Samaritan" is anything but merciful, while "Deader" is a truly morbid workout, and "Morbid Antichrist" summons the spirits of those two classic death metal outfits perfectly. By the time things reach an atomic conclusion on the evil rock'n'roll of "Chainsaw Lullaby," you'll have been sucked into Bloodbath's unholy world forever.
There's an extra nasty layer on "The Arrow Of Satan Is Drawn." This time, among the usual chainsaw riffs and blasts, the darkness of Blakkheim's words is also reflected in the addition of new guitarist Joakim Karlsson of Swedish black metal plague Craft. It's a step forward that's only given the band's already fearsome fangs extra rabid bite.
He's not the only extra face getting covered in gore. "Bloodicide" – quite literally meaning "The Killing Of Blood" – features a full house of British death metal guest stars, with Carcass' Jeff Walker, Bolt Thrower/Memoriam singer Karl Willetts and Cancer's John Walker all lending their larynxes to the madness.
"It wasn't deliberately planned to be just british guests, but as it randomly turned out that way, it became a really cool feat!" laughs Blakkheim. "Nick [Holmes], Jeff, Karl and John are all legends respectively within the UK death metal scene and we're proud to bring them all together on our little old school soiree to tribute the days of old."
"There's no mitigating circumstances coming your way any time soon… The world is a mad place full of darkness, horror, disease and terror! Hell on Earth is real and not just limited to fiction. The dark ages transcend all frontiers, ever present but yet unseen."Blakkheim
Beware – for Satan's Arrow Is Drawn…
"THE ARROW OF SATAN IS DRAWN" TRACK LISTING
1. Fleischmann [03:38]
2. Bloodicide [04:56]
3. Wayward Samaritan[03:39]
4. Levitator[04:37]
5. Deader[04:06]
6. March Of The Crucifers[04:05]
7. Morbid Antichrist[04:05]
8. Warhead Ritual[03:38]
9. Only The Dead Survive[05:06]
10. Chainsaw Lullaby [03:20]
Bonus Tracks available on Ltd Edition CD + 7″ version only
11. Ride The Waves Of Fire [03:48]
12. Wide Eyed Abandon[05:00]
"The Arrow Of Satan Is Drawn" will be released on the following formats
CD digipack – 10 track album with a 20-page booklet
LP – gatefold black 180g heavyweight vinyl – 10 track album printed inner bag feat. lyrics
LP – gatefold red 180g heavyweight vinyl – 10 track album printed inner bag feat. lyrics (available exclusively through Omerch)
Ltd Edition 7" gatefold feat. A 12 track CD with 2 exclusive bonus tracks + 7" single of the 2 exclusive bonus tracks + Bloodbath poster
Download and streaming platforms
Bloodbath will waste to stages across Europe in November and December as they join Kreator, Dimmu Borgir & Hatebreed on the European Apocalypse tour
KREATOR + DIMMU BORGIR + HATEBREED + BLOODBATH
November 30, 2018   NL – Tilburg, O13
December 01, 2018    DE – Hamburg, Sporthalle
December 02, 2018    DE – Frankfurt, Jahrhunderthalle
December 03, 2018    FR – Paris, L'Olympia
December 04, 2018    BE – Brussels, AB
December 06, 2018    IT – Milano, Alcatraz
December 07, 2018    DE – Munich, Zenith
December 08, 2018    DE – Ludwigsburg, MHP Arena
December 09, 2018    CZ – Prague, Forum Karlin
December 10, 2018    CH – Zurich, Halle 622
December 12, 2018    AT – Vienna, Gasometer
December 13, 2018    PL – Warsaw, Kolo Hall
December 14, 2018    DE – Leipzig, Haus Auensee
December 15, 2018    DE – Dusseldorf, Mitsubishi Electric Halle
December 16, 2018    UK – London, Roundhouse
Fans can look forward to new dates being added for 2019
Bloodbath are:
Old Nick – vocals
Blakkheim – guitar
Lord Seth – bass
Joakim – guitar
Axe – drums
Read our review here.