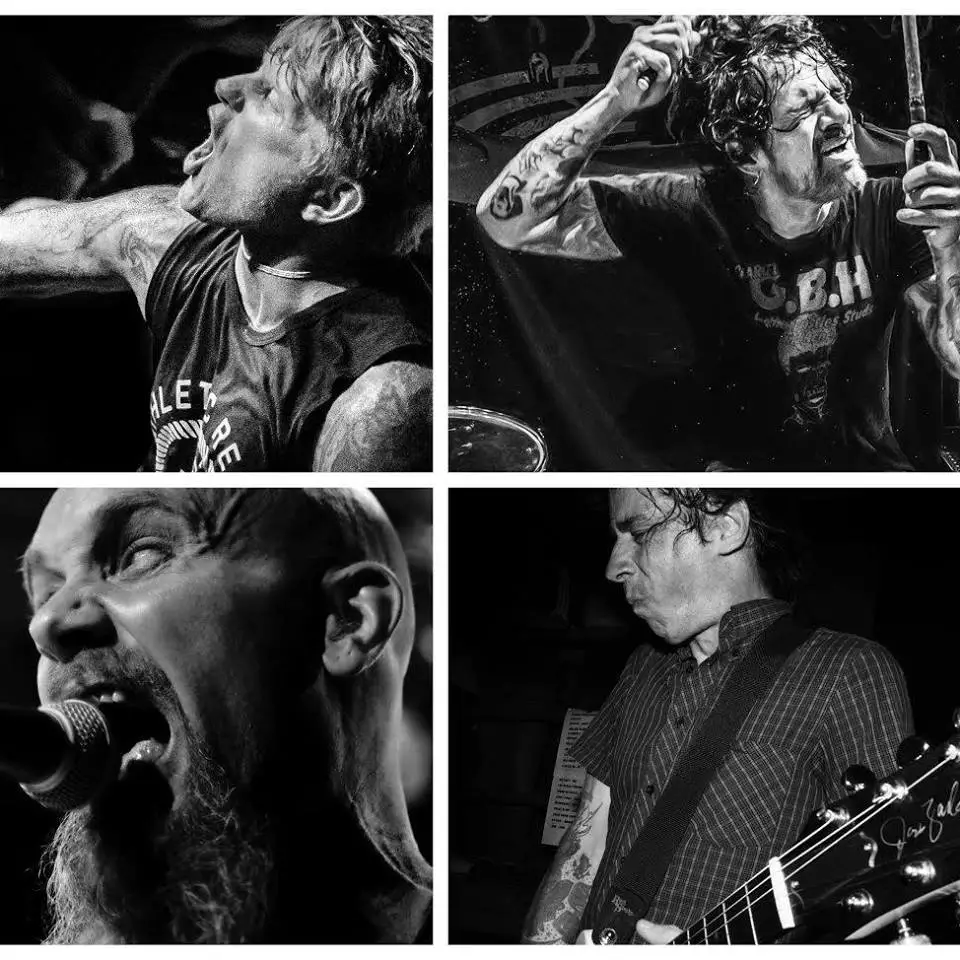 BLOODCLOT – featuring true hardcore pioneers John Joseph (Cro-Mags), Todd Youth (Warzone, Murphy's Law), Joey Castillo (ex-Queens of the Stone Age, Blast!), Nick Oliveri (ex-Queens of the Stone Age, Dwarves) – has announced USA tour dates with Negative Approach, in support of their upcoming album, "Up In Arms". Due out July 14th via Metal Blade Records, "Up In Arms" lives up to the rallying cry of the album's title – the bursts of high energy hardcore act as the perfect accompaniment to John Joseph setting his sights on injustice and the seemingly endless flaws of the contemporary world. You can listen to the title track below.
See below for all upcoming dates!
BLOODCLOT tour dates
w/ Negative Approach
July 14 – Amityville, NY – Revolution Bar and Music Hall
July 15 – Philadelphia, PA – Underground Arts
July 16 – Washington DC – DC9
July 18 – Virginia Beach, VA – Shaka's
July 19 – Baltimore, MD – Ottobar
July 20 – Belmar, NJ – Paul's Tavern
July 21 – Brooklyn, NY – Saint Vitus
July 23 – Buffalo, NY – Studio at the Waiting Room
July 25 – Pittsburgh, PA – Cattivo
July 26 – Cleveland, OH – Now That's Class
July 27 – Cincinnati, OH – Northside Yacht Club
July 28 – Detroit, MI – The Magic Stick
July 29 – Chicago, IL – Cobra Lounge
July 30 – St. Louis, MO – Blueberry Hill
Aug. 1 – Denver, CO – Marquis Theater
Aug. 3 – San Francisco, CA – Thee Parkside
Aug. 4 – Los Angeles, CA – The Echoplex w/ Nails, Final Conflict
Aug. 5 – Santa Ana, CA – The Constellation Room w/ Nails, Final Conflict
Aug. 6 – San Diego, CA – Brick by Brick w/ Nails, Final Conflict
At its purest, there is little that can match the visceral thrill and empowering spirit of hardcore. As front-man of New York City hardcore kings Cro-Mags, this is something John Joseph knows very well, and with "Up In Arms", he and his BLOODCLOT compatriots deliver a furious collection that hits hard on every level. From the moment the opening title track explodes to life, it's clear that everyone involved is having a blast and playing from the heart, and that this is no frills / no bulls**t music at its most passionate.
"In this band we're doing what each of us have always done: give it our all," John Joseph states plainly. "We work hard, and we have a lot to say. Look around the planet – people are fed up with the corrupt ruling class. They destroy the planet and kill millions for profit, and the formula for our response is simple: Anger + applied knowledge = results. Don't just bitch. Change it."