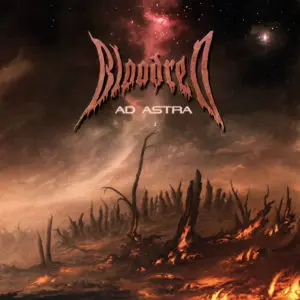 Just today I finished the magnificent book by Dayal Patterson "Black Metal. Evolution of the Cult." Needless to say that it influenced me a lot by such a deep and loyal to the basis book like it. Reality is that the book showed me that I knew much less about Black Metal that I thought. Ok, but what does the book have to do with Bloodred and "Ad Astra"?
Well, a lot and not a lot. Let me try to elaborate.
The experience from more than 1,000 reviews written here and the many bands I've heard have showed me that the core feature for Black metal bands is the vocals. Eerie, harsh, shrill, but always with the distinct sound of what is called gutural – I like this term better. There are, though, sligh differences from Black Metal vocals and Death Metal vocals. However, I'm totally unable to tell you all the diferences as I myself don't know them all. Instrumentwise, I have to say that today Black Metal is more open to myriad of different instrumental efforts and features. That's why I tend to think that "Ad Astra" fits better as Black metal and, of course, that's why I quoted the magnificent book – hey, great tip for a nice reading my dear child of the night.
All the different and diverse musical twists herein fit much more comfortable into the Black Metal scene. I dare to say that with a strong foot at the Post-Black Metal as many tracks as the opening act "Shatterer of Worlds" showcases such a melancholy and sadness that it gets pretty hard to try to label as Melodic Death Metal. The theme of it falls in this troublesome labeling as well. Just take a look at the album title "Ad Astra" whose meaning is to the stars. It tells a lot about Bloodred's feelings and thoughts. Though the blastbeats tell otherwise the are getting a feature in all Metal acts. But I guess I'll stick with my first option as I was listening to all the album the songs got even closer to the first. What to tell about the tittle of following track "With Existence Comes Suffering"? Just that I couldn't agree more. I highlight some instrumental passages that bring a Metallica trait – from the good times, my dear child of the night. By the way, go right to "Twilight Falls" and tell me about the guitar main riffing. Does it feel any Metallica? I'm sure it does.
I find that "Ad Astra" is too moody to be Melodic Death Metal, from I'm standing of course. The atmosphere of the album is dark and dense but also full of a sense of melancholy and angst. Maybe to say that it's Post-Black Metal may be too much, but the feling is there. Yes, it is.
Bloodred "Ad Astra" was released on April 22nd via Massacre Records.
Track Listing:
Shatterer Of Worlds
With Existence Comes Suffering
Neon Gods
All Is Bleak (Bonus Track)
United/Divided
Twilight Falls
Fire, Ash and Dust
Realm of Silence
Ad Astra
Watch "Fire, Ash and Dust" official lyric video here: