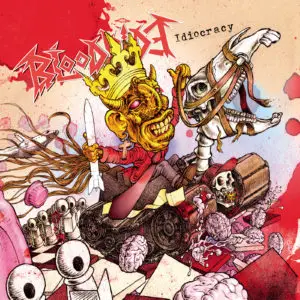 Pay close attention to the drums thing in this album and my dear fan will get the difference I always tell about speed in the 1980s and speed in Extreme Metal. Pay attention that the drums are faster using a different bass drums technique. I mean, the difference was the use of only a single bass drum pedal so the drummer had to give more notes to play it faster. Now with the double bass drum pedal things got easier and bands could do the jump to a groundbreaking sound. Early Extreme Metal bands used a lot this technique until the use of the double  bass drum pedal got well-known. Pay attention to seminal albums as Slayer's "Show No Mercy" or Metallica's "Kill'em All" or even Motörhead "Ace of Spades" and note the use of the single pedal.
This Bloodride "Idiocracy" is full of this drumming technique and it's a great oportunity to feel how it was used. My fan will also notice that vocals in the album are pretty harsh and sometimes as in "Preaching to the Choir" it sounds almost gutural, or gutural depending on the point of view. I'd say that "Idiocracy" is a great Speed Metal album with some features of early Thrash Metal. For my fan to understand better what I'm talking about I quote early albums of Running Wild "Gates to Purgatory" and "Branded and Exiled" or Iron Angel's "Hellish Crossfire" they are indeed a great example. The interesting thing in the album is all instrumentals seem to be faster than the average. It's not only an impression but the real deal. As usual in those days some songs were a little more balanced than the others as "Zombie Walk" whose guitar riff reminds a lot Metallica's stapler guitar riffing.
Album opener "Rapid Fire" soon shows what kind of steel Bloodride are made of. The band is hard as iron and there's no concessions in their music. The album is fast and furious delivering the fan all hatred that Metal music has to deliver. Taking a quick look to all songs' tittle the idea album's tittle "Idiocracy" may be inspired on the spirit of the 1980s Metal when Metal music showed lots of scorn for all the music that represented modern mediocrity. Please, I won't tell names. In many ways this album is very fresh in the attitude as some metallers have forgotten what Metal is really about.
Bloodride "Idiocracy" will be released on October 15th via Great Dane Records.
Track Listing:
Rapid Fire
Burn Perfection
Stranger Roots
Hate of Hatred
Fleshless
Preaching to the Choir
Inviting Darkness
Limited
Thoughts and Prayers
Bow to Disorder
Zombie Walk
Cast out from Idiocracy
Watch "Cast out from Idiocracy" official video here: