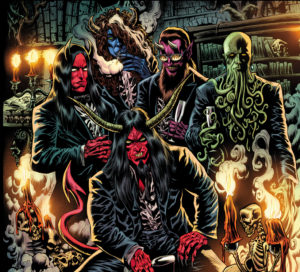 From all bands that I've heard here since the beginning, Bobaflex is the first that could mix the 1970s spirit with modern metal touches. In all of them there was a certain kind of 1990s taste. Not Bobaflex. In "Eloquent Demons," Bobaflex got the songwriting spirit of the 1970s, I mean, Bobaflex are more interested in building songs with melody like if they were telling a story. That's where the feeling of completeness come from. The best example I got is "Off With Your Head," which is of a purity and simplicity that moves us. Listen carefully to the framptonish instrumental passage in the middle of it.
Though Bobaflex's image is directly related to modern times, their music is a mix of 1970s heavy  and hard rock plus the melody and 1970s sense of completude. Vocals are very deeply based on 1970s singers like America, for instance. The opening track, "I Am a Nightmare," has a delightful taste of american heavy rock. Though the instrumental dressage is more modern, the singing style overcomes all. I felt a great deal of early Kiss in some tracks, specially in "Long Time Coming" guitar riffing. There is also a dash of progressive rock in it. By the way, prog rock also appears as a major influence in Bobaflex's music. Yet, they have covered Pink Floyd's masterpiece "Hey You" with a great deal of competence and honesty.
Bobaflex are the missing link between 1970s american heavy rock and modern metal music. "Say What You Will" is the better sample of it. "Say What You Will" perfectly manages to cope with all those sonic influences regarding to all the melodic senses that were forgotten these days and were abundant back then. Even the most modern song of "Eloquent Demons," "Lights Out," preserved well the melodic singing style to highlight the songwriting. Only one song may seem asynchronous with all the effort, which is "Real Sadness" in the beginning. But the break in the middle changes it all, and we can fit it with all "Eloquent Demons" songs.
Bobaflex "Eloquent Demons" is a unique piece. "Eloquent Demons" should be heard only because of the rare past and present mix.
Track Liksting:
Eloquent Demons
I Am a Nightmare
Long Time Coming
Say What You Will
Lights Out
Real Sadness
Off With Your Head
Moon And The Shadows
Hey You
Reckless