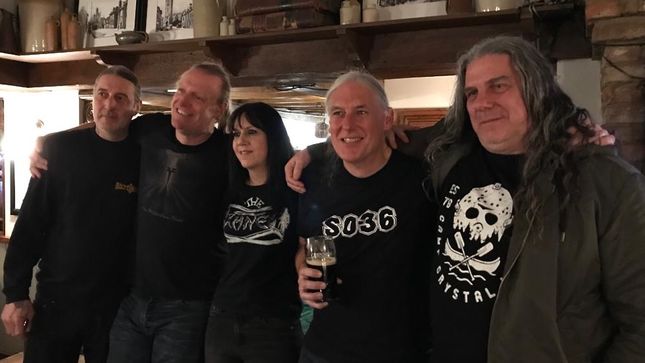 Bravewords.com has broke the news that three of the surviving members of the iconic British death metal band BOLT THROWER – guitarists Gavin Ward and Barry "Baz" Thomson, and bassist Jo Bench – recently reunited in celebration of the birthday of late drummer Martin "Kiddie" Kearns, who passed away unexpectedly at the age of 38 on September 14th, 2015 and would have turned 43 last Saturday (March 7th).
There, Ward, Thomson, and Bench – together in public for the first time in nearly five years – were joined by friends Darren Brookes and Peter (Rewy) Rew of BENEDICTION. Photos from this event can be found at BoltThrower.com, Jo Bench – Bolt Thrower, and the official BENEDICTION Facebook page.
The sighting at the birthday bash has indicated that a BOLT THROWER reunion is possible, or perhaps Ward, Thomson and Bench were just getting together in honor of their late bandmate.
It's actually not the first time rumors of a reunion have spread. On what would have been Kearns' 40th birthday back in 2017, BOLT THROWER posted a lengthy statement focusing on the late drummer, of which many fans thought they were teasing a reunion or a new release in memory of Kearns, but to date nothing has come to fruition.
BOLT THROWER officially called it quits roughly a year after Kearns' death, with the surviving members declaring via official website: "We spent over 20 years together, touring the world, with 3 different vocalists, but he was so much more than just a drummer to us. So when we carried his coffin to his final resting place, the BOLT THROWER drummer position was buried with him. He was, and will now forever remain THE BOLT THROWER drummer, our Powerhouse and friend Martin 'Kiddie' Kearns."