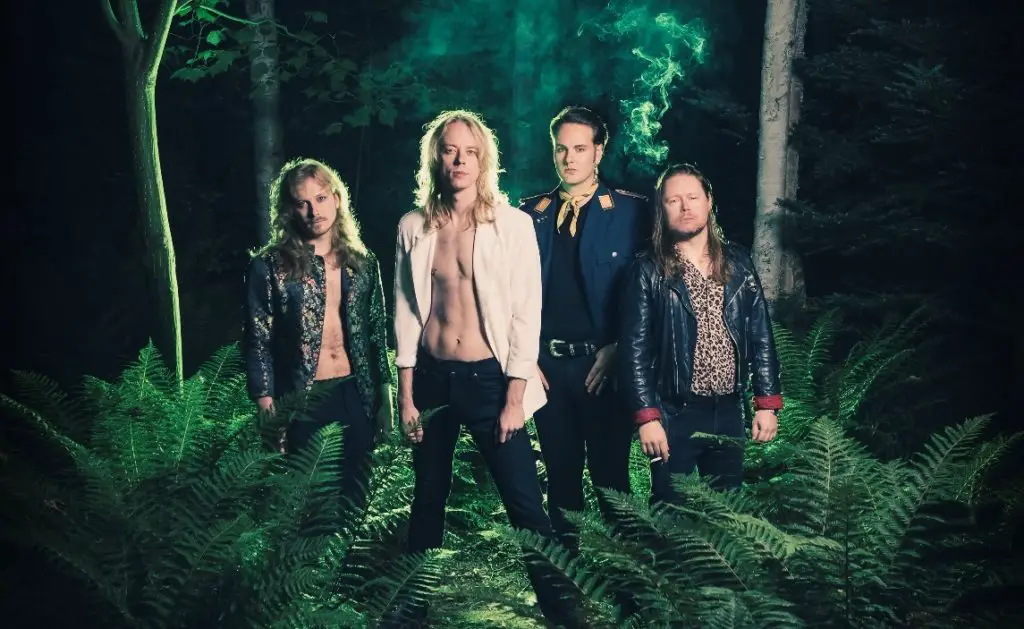 Don your bandanas, leather jackets and distressed jeans, because heavy metal is about to shine brighter than ever as Swedish newcomers BOMBER bring back the hottest era in hard rock history. Asserting their own trademark blend of 70s and 80s inspired classic and hard rock with catchy hooks, top-notch guitar solos and a vibrant aesthetic, BOMBER brings you their debut album, Nocturnal Creatures, via Napalm Records to be released on March 25, 2022!
With their new single "Zarathustra," the Swedes take you on a passionate ride through old school rock music. With fiery vocals, melodic guitars and untamable drum-play, the track gets the listener's pulse pumping. For fans of IRON MAIDEN, DEF LEPPARD and THIN LIZZY, BOMBER are sure to leave their mark on the modern hard rock scene!
BOMBER on "Zarathustra": "'Zarathustra' serves as a mission statement for the band…'Here we are, get out of our way'… We wanted to write a great album opener and we really think we found it all in 'Zarathustra'. It's a track filled with loud guitars, big drums and a mighty anthemic chorus. The song is all about rising to the occasion and elevating yourself to something larger than life. Being written as the opening track for the album Nocturnal Creatures, 'Zarathustra' is the start of our journey into the night, to a place where you will find something beautiful, dark, and heavy — where everything is being driven by a strong beat and filled with great hooks, sure to get you moving through the night Nocturnal."
After explosive live shows in Sweden and a subsequent tour of Germany, Sweden's hard rock upstarts BOMBER prove that the glorious era of rock isn't over and that they're already setting the highest standards on Nocturnal Creatures. On ten powerful tracks, the four piece turns the night into an intoxicating adventure that convinces both old and new fans of the prominent classic and hard rock genre. Album opener and title track "Nocturnal Creatures" opens the gates with epic storytelling and interludes the following passionate ride through "Zarathustra," while "Fever Eyes" ensnares with wistful weeping choirs and guarantees a quickly increasing temperature. "Black Pants Magic" emerges into an unforgettable high-class rock experience through its industrious and catchy hook, while songs like "A Walk Of Titans (Hearts Will Break)" and "You've Got Demons" surprise with dynamic melodies and Anton Sköld's powerful voice. On "The Tiger," BOMBER send their listeners right into the eye of a raging thunderstorm of riffs driven by brilliant grooves, while "Kassiopeia" sets the strings on fire with its marvelous solos. Bursting album closer "Aurora" presents Nocturnal Creatures' crowning achievement, bringing the 40-minute escapade to the edge of the world.
With their new studio album, Nocturnal Creatures, the rising stars of Sweden establish a milestone in the legacy of hard rock that leads the once so majestic genre to new glory — marked by their very own special vision!