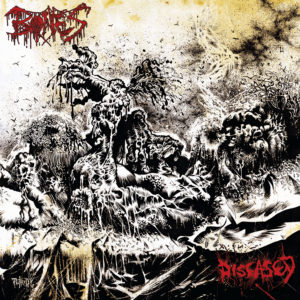 It took me a long time to understand the meaning of the label 'crust' to a band. Now with Bones and "Diseased" I finally got it. It means that this Death Metal band in question uses an instrumental that reminds a lot Old Heavy Metal with generous doses of Hardcore as in "No One Matters" and "The Future Is Now" which are pure Hardcore except the vocals. The difference is that Bones use the good old major power chords to write their songs giving them a lot more power to the instrumentals. Other Death Metal bands use major or minor scales to form guitar phrases that give an insane and chaotic mood to songs but take away much of the heavyness. To solve this problem, bands use the famous blast beats and neanderthal vocals. I guess it makes it easier to understand. Make no mistake Bones are much more near Motörhead and other NWOBHM than to Death or Cannibal Corpse – the pioneers of Death Metal or as it iscalled today Old School Death Metal. Pay attention to the aforementioned track tracks. Of course, there are some Old School songs as "Blood, Diarrhea, and Tears" and "Mass Graves," but this last ones has some features as the wall of sound that gives the touch with that little grooving at the end as Black Metal bands used to do.
Besides all those, there are tracks as "Down" that slows down a little in order to give a more intimate mood as Motörhead used to do. The outcome is a huge heavy song with the famous wall of sound that involves all the song with the great drumming work filling all the blanks and a creative guitar solo. As I told before, some tracks are completely dedicated to Old School Heavy Metal instrumentals very near the NWOBHM in its first phase as in "Boozer." Title track "Diseased" instrumentals and cadence are simply delicious.
An interesting fact about Extreme Metal, more precisely Death Metal, is that having this rigidity on vocals – gutural or harsh – bands are obliged to be more creative on nstrumentals. My guess is that why Death Metal bands vary so much in terms of building their instrumentals.
Bones are a band that pleases a lot the fan just because of those touches I've told. It's pretty energetic and adrenalized band.
Bones "Diseased" was released on September 20th via Transcending Obscurity Records.
Track Listing:
Blood, Diarrhea, and Tears
Mass Graves
Carrion Crows
Diseased
Stench of the Deceased
No One Matters
Down
Boozer
Broken Wheel
Crucifier
The Future Is Now
Watch "Mass Graves" official music video here: