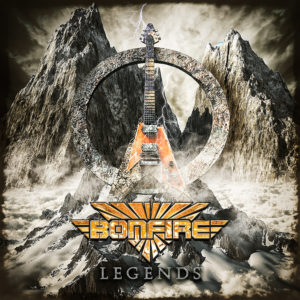 Bonfire "Legends" is a cover only album, or if you prefer, a tribute album. It doesn't matter to me. Some say bands do tribute albums when they aren't inspired enough to write a new album. There is no way of agreeing with it. Take this Bonfire "Legends" for instance. There are 32 tracks in it! Yeah, that's right! Thirty-two. Can you imagine how long it takes to prepare each song? Rehearsals, all the band learning the songs, all the band discussing the songs – more important -, explaining manager and record company your choice – lots of time indeed -, and actually recording them. See? Put in this way it's not that easy. Still, some bands do that. And some result in great albums.
Bonfire made a great selection of songs. Some of them aren't even Metal as Toto's "Africa" and "Susana," but they are delicious. Just delicious. Bonfire respected the essence of the songs, all of them. Most important, they didn't try to cover songs very far from their own essence. Wise choice. All the songs fit perfectly to Bonfire's music. There are also three songs taken from German bands Puhdys and CRO, if I'm not mistaken. If I, you always have Google to blame .
Of course, Bonfire also knew the risk they were taking to cover songs like UFO's "Doctor, Doctor" and other classics like Deep Purple's "Child of Time" – they did it better than Joe Lynn Turner did – just to name a few. Remember there are 32 tracks in "Legends." But they did it well. However, it's ironic to check out that UFO still sound heavy enough. When it comes to covers, a band can choose to mess with success or to follow the rules. Both are valid options, and both bring their own load. Bonfire chose not to mess with success. The songs are pretty near their originals. Bonfire touch are on details. I respect that. The cover to Queensrÿche's "Silent Lucidity" is pristine. This song deserves all the respect.
In a nutshell, "Legends" is a delicious album if you like famous band's covers. Bonfire did a great job here, there's no doubt about it. If I were to choose, I'd keep with Toto's "Africa" because besides respecting the essence of the song, Bonfire managed well to add their personality to it. It got simply delicious.
Bonfire "Legends" will be released on October 19th via AFM Records.
Track Listing:
CD1
Africa
Hold The Line
Rosanna
Man On The Silver Mountain
I Surrender
Stone Cold
Death Alley Driver
Black Masquerade
Burning Heart
Eye Of The Tiger
Caught In The Game
Doctor Doctor
Lights Out
Rock Bottom
Child In Time
CD2
Jet City Woman
Silent Lucidity
Eyes of a Stranger
Tears in the Rain
The First Time
Save Up All Your Tears
Hot Cherie
Dr. Love
Hallelujah
Rebellion
Heavy Metal Breakdown
Love Don't Lie
I Wanna Be Loved
King Of Dreams
Frei wie die Geier
Erinnerung
Alt wie ein Baum
Watch "Africa" official video here: