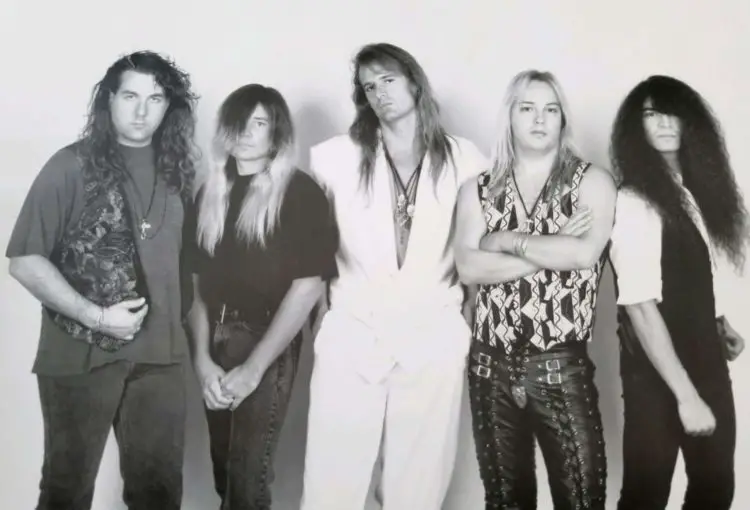 "Boudreaux" (Boo-drowe) is the last name of multi-talented musician Chris Boudreaux (THE TAKE, SOLDIER, RESTLESS BREED, HAIL MARY, HUNTER), who got his start as a drummer. Chris played in the Utah-based band THE TAKE, where he handled drumming duties on the album Hard Wave Heroes and received local praise for his work behind the kit. Chris was told by concert promoter Lenard McMillen, after seeing him DJ at club Xenon, that he was too flashy and animated to stay behind the drumkit and he should really think about becoming the front-man for the band. So, Chris set aside the sticks and picked up the mic. THE TAKE put out the album "Get Taken," which featured Chris front and center, but this caused some riffs in the band. As the inner struggle of front-man status became apparent within the ranks of THE TAKE, Chris parted ways with the band and McMillen's Management Group went with Chris. Chris was introduced to John Verner (SKYLARK, AMBROSIA, LOIS LANE) and John was quick to notice the chemistry in Chris's writing, but John didn't want to relocate and no longer had the touring aspirations that were burning inside of Chris. John introduced Chris to some musicians that he felt would be a great fit. Those musicians were Clayton Austin, Jed Bradshaw and Tracy Nielson (ESSEXX, BAD BOYS) from the band PALACE. They changed the name to SOLDIER once Chris joined (Chris handled keyboard and vocal duties). The band moved out west to Las Vegas and then on to Hollywood. Chris parted ways with the band as they moved things back to Utah. Chris replaced Jeff Scott Soto (L.A. ROXX, YNGWIE MALMSTEEN, CARRERA, KUNI, EYES, TALISMAN, TAKARA, AXEL RUDI PELL, W.E.T., SONS OF APOLLO) in the California-based band RESTLESS BREED. But this was short-lived, and Chris moved on to a band called HUNTER. Chris quickly found chemistry with drummer Lionel Barton (FLESH N' BLOOD, SLIK N' WIKKED, THE GREG LEON INVASION) who studied under Jeff Porcaro (TOTO) and was tutored by both Bill Bruford (YES, KING CRIMSON, U.K.) and Chester Thompson (GENESIS, STEVE HACKETT, SANTANA). The band featured guitarist Michael Taris (TARIS, ACASHIA), nicknamed "595" by Eddie Van Halen, who loved Michael's super-fast guitar playing. HUNTER worked on many original songs including the song "Hunters in the Night," which they recorded at STS Studios. Chris eventually opened his own recording studio and band space called "C.B. Studios." The band practiced and started to gain momentum, but there was a bit of a civil war when keyboardist Brooke Hansen (NERVOUS ENERGY, BOAST, TAKARA) and bassist Dave Acashia (TARIS, ACASHIA) decided they wanted to find a new vocalist. They went as far as auditioning new vocalists in Chris's own studio. Chris, Mike, and Lionel departed the band, picked up bassist Mike Regan, and formed the band BOUDREAUX.
The band played out constantly, but Chris felt that there was something missing. Chris brought in seasoned keyboardist Thom Dorren (LOU GRAMM) to add a melodic touch to the band. This also opened the door to play a few more songs such as the very keyboard heavy SOLDIER song, "My Window." They would also play crowd favorites such as "Hunters in the Night" and the Elton John cover of "Saturday Night's Alright for Fighting." The band continued to playout as much as they could and began to gain some momentum from California to Utah. They opened for RATT and actually played a show where GREAT WHITE opened for BOUDREAUX. They were featured on the cover of the January 15, 1990 issue of Jam Magazine, which also contained an in-depth interview with the band. The band also received coverage in BAM Magazine and The Music Connection in California.
The band toured extensively from California to Utah. In 1989 BOUDREAUX headlined a New Year's Eve concert titled, "The Final Decade Tour – Rockin' in the 90s," at the Fairgrounds Coliseum in Salt Lake City, Utah, where two of the local favorites, HOSTYLE and HARLOT, opened the show. Though Chris was sick, he was in his hometown and couldn't let the fans down. The sold-out crowd did not leave disappointed as the band delivered a great set. Shortly after the Salt Lake gig, the band found out that Thom Dorren was being paid a monthly wage as the rest of the band was still trying to find a payout from a record deal. This caused a lot of tension and the band imploded.
Chris stepped away from the BOUDREAUX band and recorded two songs for his solo album with Donni Iris (DONNIE IRIS AND THE CRUSERS) and Pete Hewitt (BILLY JOEL) at Alfa-Star Studios in Pittsburgh, Pennsylvania for CBS Records. The pre-production work was done by Rick Witkowski (CRACK THE SKY) in Virginia. These two songs and many other songs over Chris's career have been shelved. But Chris's solo album, "Who Made Who," will be released in the near future by Metallic Blue Records.
After stepping away from the BOUDREAUX band for some solo work, Chris looked into joining another band. Chris tried out for the California based band "ROKKIN' HORSE," where he instantly connected with their guitarist Ken Snyder (CUT THROAT). Chris and the band recorded a song that Ken had written called "Fallen Angel." Though Chris did a great job on vocals, Ken was outvoted and ROKKIN' HORSE went with a different vocalist. In 1993 Chris auditioned for the post-LEATHERWOLF band HAIL MARY after vocalist Michael Olivieri left. Chris ended up playing with them for several months, but the band eventually folded. Chris decided at that moment that he wanted to put the BOUDREAUX band back together with a fresh new lineup. Chris brought in guitarist Johnny Hart. They had many drummers tryout, including Paul Monroe (XYZ, RUMBLEDOG) and Marc Droubay (SURVIVOR), but it was a British drummer by the name of Ramsay Bisharah (SAVANNAH NIX, STRAIGHT JACKET, CUT THROAT) that caught Johnny's eye and he was insistent that this was the guy that he and Chris needed. Ramsay was trying out for another band as well called BIGG MOUTH who asked him to join. Ramsay liked Chris's vocals and thought that he was a better fit in BOUDREAUX and chose them over BIGG MOUTH who intended to move back to New York City. The three of them were now looking to add a bassist to the mix. Chris didn't want to settle on a run-of-the-mill bassist; Chris wanted a guy who could come in and contribute with songwriting and push the band to the next level. Chris interviewed several bassists and he turned to the local Music Connection magazine where he found an ad for a seasoned bassist named Justin Juknelis (FALLOUT, SUNSET 101, ROCKABYE, TALOR MADE, SCARLET BLUE). Justin was originally from Baltimore, Maryland, where he began his career as a guitar player in the band FALLOUT, but he saw more potential out in Hollywood, so he set out west. When Justin arrived in California, he saw tons of ads for guitar players wanting to join bands and on that same note, he saw many ads for bands needing a bassist. Justin played the odds in his favor and switched to playing bass. Justin ended up hooking up with New York native Michael Kloda to join his band ROCKABYE. Michael and Justin wrote several songs together including two songs that would become BOUDREAUX songs: "Take the Money and Run," which Chris revamped the verses to, and the song "Forget Love" that Justin also performed in his band TALOR MADE.
The band wasn't able to get too comfortable before Johnny Hart departed the band when he got married. This left the band looking for a new guitarist. Chris reached out to Ken Snyder who was no longer in the band ROKKIN' HORSE (as they had broken up). Ken came down to the rehearsal studio and things just clicked. The band found a magical chemistry as the sound just began to gel. Ken's guitar playing lit a fire inside this new rendition of BOUDREAUX and everyone was all in. The band outlined thirteen songs that they wanted to take into the studio and record. Every band member brought a song to the table. Not all the songs were complete and the ones that were received a new enhanced rendition. The title track "Fallen Angel" was a song that Ken and Chris had recorded with the band ROKKIN HORSE (which was part of Chris's audition at the time). Ken and Chris molded the song to what they wanted as Chris added lyrics and some melodies. Chris brought in two songs he had done in previous bands, one being the song "Without Love," which came from the band SOLDIER, and the other was a song from THE TAKE called "Baby Don't Leave," which the band added a more edgy sound to it. The guys would continue to rehearse at Chris's band space/recording studio "C.B. Studios" in Northridge, California. Chris's studio brought in many musicians and bands who played and recorded there. Some of these musicians included Lemmy Kilmister (HAWKWIND, MOTORHEAD), Tracee Guns (GUNS 'N ROSES, SIOUXICIDE, L.A. GUNS), Chuck Behler (MEGADETH, THE MEANIES, SINCLAIR), Tod Burr (ROCKNEE, SOLDIER, TUFF, CRIMINAL MINDS, BLACK, PRETTY BOY FLOYD, SHAMELESS, SUBSTANCE D, W.A.S.P.), Todd "Chase" Chaisson (TUFF, SUBSTANCE D) Jeff Poole (LEGS DIAMOND, STARS N BARS) amongst many others.
Chris was living in Las Vegas at this point, but however, made the trip almost every weekend to rehearse with the band. The band would also make trips out to Vegas for some recreational activities. The band reminisced about Chris and Justin playing craps at the Imperial Palace on the famous Las Vegas Blvd. Chris and Justin would battle back and forth on who could be more over the top and outlandish as they would roll the dice shouting out expressions such as "Daddy needs a new pair of shoes." This behavior drew a lot of attention and brought a spark to the casino. The band didn't need to pay for drinks or dinner as the casino enjoyed their fun demeanor.
Chris and company continued to collaborate to get all the songs to their liking. Once the tracks were laid out, they brought in the very accomplished and future Emmy Award winning studio engineer, Michael Parnin (BLACK, SUBSTANCE D), who has worked with such acts as STEVE STEVENS, YES, DANZIG, CHINA, KING'S X and many more. Michael and the band came into C.B. Studios in Northridge, where the band brought in a slew of artists to sing backing vocals, including Chet Urata, Dave and James Neal (MALICE), and the entire band STARS N BARS (Nicky Ford, Jeff Poole, Mel Tribble, Burk Greer) who were in the middle of recording their album "Rebel Metal" at C.B. Studios.
The band would often stay late with Michael Parnin as they continued to record the album. Michael and the band stayed late on January 16, 1994, a Sunday night, and left early in the morning on the 17th. About fifteen minutes after leaving the studio, approximately at 4:30 a.m., a magnitude 6.7 earthquake rocked Northridge. This earthquake completely tore through C.B. Studios knocking over the band's amps, guitars, drums, and recording equipment. At the time, this was the costliest natural disaster in United States history. The entire parking structure came down and would have crushed the band and their vehicles if they had left just fifteen minutes later. The band jokingly told Ramsay that his final recording of the beginning kick drum on the song "Yesterday's Gone" was so powerful that it caused the 6.7 magnitude earthquake.
After the album was recorded and just about to be mixed, the band decided to add another guitarist to the ranks. They put out an ad and brought in Pittsburgh, Pennsylvania native Darwin DeVitis (MICKEY RAT, HARKEN, CUT THROAT, CARBON 9, LAST DAY RISING) who had relocated to L.A. in the late '80s. Darwin and Ken immediately found a melodic chemistry. Darwin wanted to join a band with a dynamic front-man and collaborative musicians with talent to go to the next level. Darwin was as eager to join the band as the band was eager to bring Darwin in.
The band relocated their rehearsal space to Darwin's garage in North Hollywood. Ramsay moved to Arizona, but would still drive out for band practice on the weekends. The new lineup only played one live show at Bourbon Square in Los Angeles on the corner of Sepulveda Blvd. and Victory Blvd. Though the band tried to play out more, there were always stumbling blocks standing in their way, from health issues to entire show cancelations. The band continued to adapt to these challenges. Eventually the music scene itself left melodic metal bands on the outside looking in as the rising popularity of grunge and alternative rock overtook the hard rock scene. Due to this shift, the band began to have some creative differences. Some members were much more willing and able to adapt to the scene change, while others were still grasping on to that '80s melodic sound.
This all took place during a time when the band felt that maybe a name change could give them a fresh start. A few names were tossed around, but the majority of the band felt the name should be changed from BOUDREAUX to SLUGFEST. The band practiced under that name for a while, but things began to get less consistent as Chris didn't make it in from Las Vegas as often and Ramsay had a harder time coming in from Arizona. Chris had other musical opportunities that kept him in Sin City such as his collaboration with Frank Aresti (DEMONAX, FATES WARNING) on the concept video "Three Words," which garnered awards on the east coast and caught the attention of Grammy Award winner Brian Dobbs, who produced and worked with such bands as METALLICA, BON JOVI, DIRTY RHYTHM, AC/DC and many more. These opportunities kept Chris from returning to California and the band decided to continue on under the name SLUGFEST, but the music scene was not the same as it once was and melodic hard rock was no longer mainstream. The band formed into a DEF LEPPARD tribute band, but Ramsay parted ways with the guys. The band began to play originals again under the name SLANG and even recorded some songs, but that didn't last long. Musically the guys were moving in different directions and eventually the band called it quits. Everyone still continued to play. Justin moved on to his band SCARLET BLUE AMA RO and BRAND NEW FACE where he found some success. Darwin and Ken played in the band CUT THROAT for several years. Ramsay joined up with them on the second CUT THROAT album. Chris reunited with several of his old bandmates at different times and recorded some material that will soon see a proper release. All the guys in the band are still friends to this day. Everyone involved is excited about the release "Fallen Angel" coming out on February 12, 2021 on Metallic Blue Records. Even though the music scene and life's challenges seemed to creep in, the band BOUDREAUX bonded these guys forever. And their music will always be able to be enjoyed by hard rock and melodic metal fans forever.
Band Line-up:
Justin Juknelis – Bass Guitar, Acoustic Guitar, Backing Vocals
Darwin DeVitis – Lead And Rhythm Guitar, Backing Vocals
Chris Boudreaux – Lead And Backing Vocals, Keyboards, Percussion
Ken Snyder – Lead And Rhythm Guitar, Backing Vocals
Ramsay Bisharah – Drums, Backing Vocals
Read our review here.