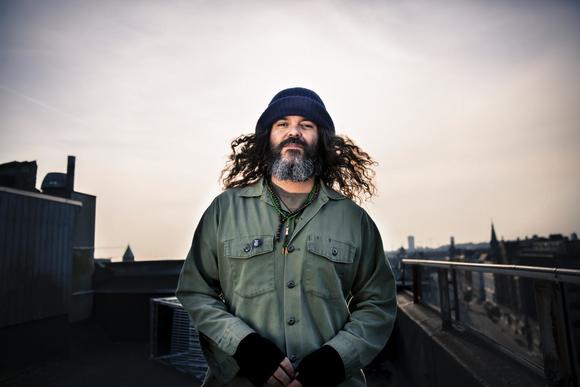 Kyuss & Fu Manchu-legend Brant Bjork is back with a brand new record! The Godfather of Desert Rock will release his thirteenth solo album titled 'Mankind Woman' on September 14th 2018 via Heavy Psych Sounds Records! This is the first record Brant has so closely collaborated with a producer and co-writer; his Low Desert Punk Band guitarist and friend, Bubba Dupree. Brant and Bubba wrote and performed the music along with guest appearances by bass player Armand Secco Sabal, Nick Oliveri and vocalist Sean Wheeler who has been a touring member of the Low Desert Punk Band.
Although 'Mankind Woman' is as modern classic, it is evidently clear that both Bjork and Dupree specialize in the craft of the sound and feel of the music spawned in the 60's and 70's. This record is inspired by this great era, however the intention was not to try to recapture or mimic in retro terms these influences but to strive for a contemporary quality. Brant Bjork might have gone deeper in the lyrics than on any record before. Focusing on personal sensitivities, elite hypocrisies, racism, sexism and the daily struggle to find peace, love and understanding in today's American society. Once again, Brant Bjork created a record that reminds the listener that it is the ingredients of the jazz, blues and funk, that makes rock music taste so good. A must-have for all collectors, genre-fans and beyond!
In support of his upcoming album, Brant Bjork will heavily hit the road this Fall, again he will be joined by his longtime friend, desert rock titan Sean Wheeler. Today, Brant announced two more exciting acts to join this upcoming run on selected dates: Denmark's psychedelic rock trio The Sonic Dawn, who are currently putting the final touches on their brand new album set for a release in early 2019 with Heavy Psych Sounds Records, as well as Norwegian quintet in heavy rockers Dunbarrow who are about to release their epic new record 'Dunbarrow II' this September with RidingEasy Records!
Make sure to catch this very diverse and exciting tour package in support of the Desert Rock king Brant Bjork live on the following dates:
02.11.18 Drammen |Union Scene, with DUNBARROW
03.11.18 Stockholm | Debaser Strand, with DUNBARROW
04.11.18 Göteborg | Sticky Fingers, with DUNBARROW
05.11.18 Malmö | Kulturbolaget, with DUNBARROW
06.11.18 Hamburg | Fabrik, with THE SONIC DAWN
07.11.18 Amsterdam | Melkweg, with THE SONIC DAWN
08.11.18 Leuven | Het Depot, with THE SONIC DAWN
09.11.18 London | Garage, with THE SONIC DAWN
10.11.18 Paris | Petit Bain, with THE SONIC DAWN
11.11.18 Tilburg | O13, with THE SONIC DAWN
12.11.18 Wiesbaden | Schlachthof, with THE SONIC DAWN
13.11.18 Zürich | Rote Fabrik, with THE SONIC DAWN
14.11.18 Martigny | Caves Du Manoir, with THE SONIC DAWN
15.11.18 Turin | Spazio 211, with THE SONIC DAWN
16.11.18 Innsbruck | Hafen (Heavy Psych Sounds Fest, with THE SONIC DAWN)
17.11.18 Munich | Feierwerk, with THE SONIC DAWN
18.11.18 Vienna | Arena, with THE SONIC DAWN
19.11.18 Dresden | Beatpol, with THE SONIC DAWN
20.11.18 Berlin | Festsaal Kreuzberg, with THE SONIC DAWN