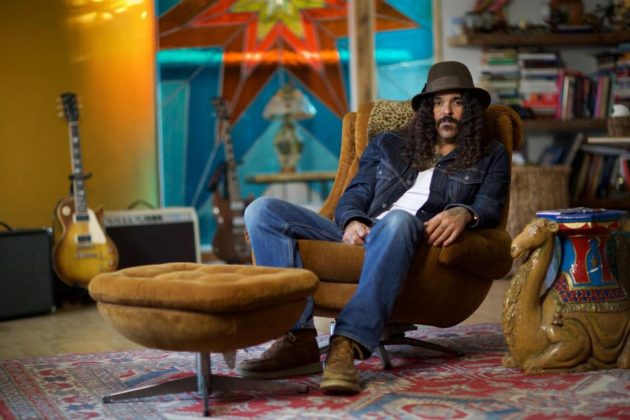 Welcome back the sweet scent of freedom. Breath in the greeheen! BRANT BJORK has come to revive your spirit: The Kyuss- and Fu Manchu legend has just announced his first live record ever!
From the opening guitar riff of "Europe '16", recorded in Berlin, one can sense the buzz of classic rock electricity that transcends into new spheres. This is controlled madness between doomy and trippy, groovy and sludgy!
Set for release on September 22nd via Napalm Records, BRANT BJORK has now revealed the cover artwork and track list of his first and highly anticipated live record.
Brant Bjork commented on Europe '16:"This record is live. Live records are ugly and they should be. When a band plays live, they let their hair down. Live is all that really matters. There are those moments in life when everything is ok and these are the moments when you are doing exactly what your here on the planet to do. You're right where you are supposed to be with no shame, no fear, no regret, no envy, no hatred and no apology. I always say this band brings a feeling. The feeling is always primary and the sound, secondary. At least to me. In the book of Tao, there is a passage…"naming is the origin of all particular things". I use here the term ugly to refer to my naming of my particular relationship with my soundscape. my my my. Why the term ugly? Because its the opposite of pretty. As the popular saying goes, "It is what it is". As for my music, my band and this live record, I prefer to say, "it is what it isn't"."
The track listing reads as follows:
1. Buddha Time
2. Controllers Destroyed
3. Humble Pie
4. Stakt
5. The Gree Heen
6. Lazy Bones-Automatic Fantastic
7. Stokely Up Now
8. Dave's War-Dave's Peace
9. Biker No. 2
10. Freaks Of Nature
11. Low Desert Punk
12. Let The Truth Be Known-Jumpin' Jack Flash
And to also celebrate his first live record ever, BRANT BJORK has just announced many more tour dates for this year! Catch him live in Europe here:
04.08.17 GR – Almiros Magnisias / Los Amiros Festival
05.08.17 AT – Waldhausen / Lake on Fire
06.08.17 HU – Budapest / Tixa
08.08.17 DE – Hamburg / Sommer in Altona
09.08.17 DE – Stuttgart / Universum
10.08.17 CH – Duedingen / Bad Bonn
12.08.17 BE – Kortrijk / Alcatraz Festival
14.08.17 CH – Martigny / PALP Festival
'Gree Heen Europe 2017'
with special guest Sean Wheeler:
26.09.17 Stockholm | Debaser Strand
27.09.17 Stavanger | Folken
28.09.17 Oslo | John Dee
29.09.17 Gothenbourg | Sticky Fingers
30.09.17 Copenhagen | KB 18
01.10.17 Hamburg | Logo
02.10.17 Leipzig | UT Connewitz
03.10.17 Bielefeld | Forum
04.10.17 Amsterdam | Melkweg
05.10.17 Eindhoven | Effenaar
06.10.17 Pratteln | Up In Smoke
07.10.17 Aschaffenburg | Colossal
08.10.17 Brussels | Botanique
09.10.17 Rennes | Ubu
11.10.17 Bilbao | Kafe Antzokia
12.10.17 Porto | Cave 45
13.10.17 Lisbon | RCA Club
14.10.17 Madrid | Caracol
15.10.17 Barcelona | Bikini
16.10.17 Marseille | Jas Rod
17.10.17 Torino | Blah Blah
18.10.17 Ravenna | Bronson
19.10.17 Zagreb | Vintage Industrial Bar
20.10.17 Wien | Arena ( with Stoned Jesus + Beastmaker )
21.10.17 Munich | Keep It Low