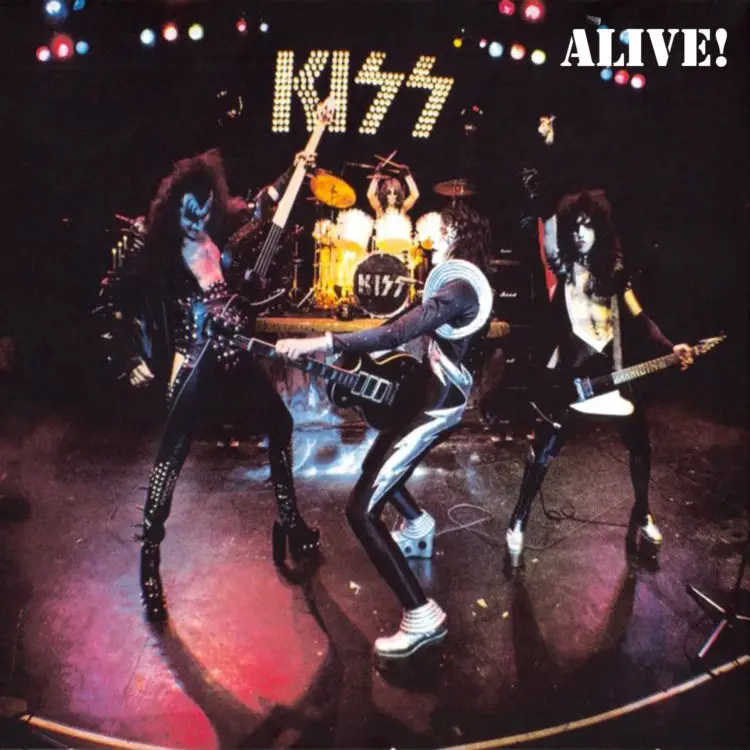 Today's subject is the most iconic album of one of the most controversial bands ever: Kiss and their Alive!.
Many things have been said about Kiss throughout the years, but one thing you must agree with me: Kiss are a love or hate band. No doubt about it. There is no way in denying that when it comes to Kiss and all their musical efforts.
As I told before, I selected some albums to write about following a simple criteria that they should be a musical breakthrough on Heavy Metal or a breakthrough on the band's career. Alive! belongs to the the second criteria.
An actual debate is about Kiss being or not a HM band. I agree that this is a major quarrel, and my purpose is not to end it. My guess is that it will never end. But I will show my points why I consider Kiss a HM band, mostly if you consider them among their 1970's peers. In terms of musical structure, their compositions were made according to the hard rock it was gestated during that time. Kiss played louder ou as loud as their peers, used a lot of rock'n'roll musical components as many of them, but Kiss were different in three aspects: vocals, attitude, and visual.
Paul Stanley and Gene Simmons share most of the singing parts in Kiss, so let's get attached only to them. Even Paul's clean and neat voice is much near what HM singers do today than to his peers in the 1970's. His vocal range is amazing and very few could do that in the 1970's. David Lee Roth owes him big. Needless to say about Mr. Simmons whose gritty voice was a kind of proto-gutural style. Few singers did that way that time. Both vocals are more characteristic pieces of HM than 1970's hard rock. Since the beginning, Kiss are a very concerned band about attitude to the limit that Gene Simmons considered not allowing Peter Criss's 'Beth' to be recorded considering that it was too soft to the band personality. But the dollar full pockets that came with it made him change his mind. To Kiss, image was a very important thing. Not to mention the gigs full of fireworks, smoke, and other gizmos. One more thing, and we should never forget it: Kiss used black leather and spikes before Judas Priest did.
Before that, concerning only to Alive! there have been plenty of debate about it which are the overdubs and commercial success.
The debate about Alive!
Every debate about Kiss is shaded in gray. Hitherto, opinions about the use of overdubs have varied immensely since its release in 1975. Debate is from Simmons 'very few correct work was done' to Criss 'the only original live recordings on the album was my drum and vocal tracks.' As one can see they vary deeply. It is true that alive albums receive a special treatment to go on the streets. It is also true that Kiss members, Gene and Paul, are perfectionist. But nobody has ever considered the shadow element Ace Frehley. His guitar playing is the drive to Alive!. Very few disagree on that. His solos were so vivid, and for Kiss standards, longer than the average that they could not be recorded inside a studio. And the most important, Ace would never record them again. He is simply not the guy to do so. I do not say about moral, but he is not the guy who would sit down again inside a studio to go through all his guitar solos over again. He would not. By the way, neither Casablanca, nor the band, had the founds to do so. That is where we get near the second debate about Alive! that is its financial importance to both.
Alive! is Kiss forth effort. The first three ones were all commercial missteps. The band could not simply pass the same intensity they had on live gigs to the vinyl. On Kiss'sbehalf, at that time no one could. The gap between studio albums and alive albums was huge. Studio techniques could not pass all the intensity alive gigs had. Alive! was recorded with the hopes of filling theses blanks. And it sure did. Alive! was a huge commercial success and it paved the way to Kiss stand as one of the most successful bands of all time.
The emotional attachment
In fact, Alive! was not my Kiss first. It was "Creatures of the Night," another blast. But I could not thank it enough to have saved many of my bored teen afternoons. Me and my friends spent lots of afternoons listening to the vinyl and watching videos. I still have it vinyl. It is a superb effort. It is so that its version of "Rock and Roll All Nite" is simply the definitive one. Its intro can be recognized by no less than any mortal in this sad and lonely world.
Alive! is also a landmark to alive albums. It was the boldest move to a minor band that was struggling to survive on then-manager Bill Aucoin's American Express card. All relevant, and not relevant bands of any musical style had to have their own alive album. Alive! is also significant because it was the first Kiss hit among critics, and we all know critics love Kiss.
Like it or not, Alive! deserves to be here as a breakthrough album.
Track Listing
Side 1
Deuce
Strutter
Got To Choose
Hotter Than Hell
Firehouse
Side 2
Nothing To Loose
C'mon and Love me
Parasite
She
Side 3
Watchin' You
100,000 Years
Black Diamond
Side 4
Rock Bottom
Cold Gin
Rock and Roll All Nite
Let Me Go, Rock'n'roll