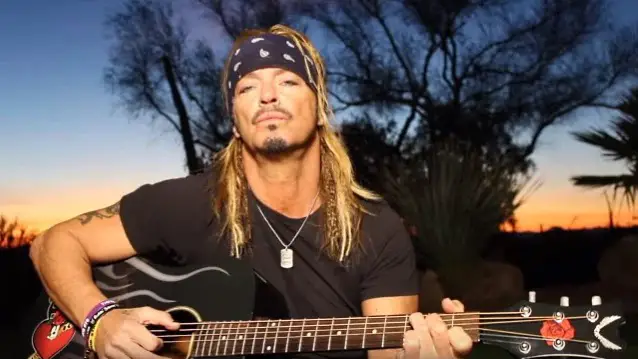 While speaking to Bionic Buzz at this past Sunday's (December 1) 2019 Hollywood Christmas Parade, POISON singer Bret Michaels was asked how he managed to get MÖTLEY CRÜE to come out of retirement for next summer's trek.
Rolling Stone reported that MÖTLEY CRÜE will hit the road next year for a U.S. tour with POISON and DEF LEPPARD.
While specific dates and venues have yet to be announced, sources have confirmed to the magazine that the three acts will perform at stadiums around the country.
"Here's what happened: everyone who knows this about me… I came in the spirit, right? I always try to throw what I call gratitude and a positive attitude out there," Michaels explained.
"So I kept throwing the good vibes out there. I said, 'It would be insane for the fans if we had DEF LEPPARD and POISON, and then if MÖTLEY CRÜE would pull it back together, that would be incredible.' It's only a rumor right now, but I'm thinking this week early, we may be mentioning something. It'll be incredible."
When asked if there is any chance that all three acts will play one song together at the end of the night, Bret responded: "If you're asking me, everyone knows when they come out on the road with me, I bring everyone up on stage.
"It's like a big jam at the end of the night," he added. "We're hoping that that's gonna happen. But no matter what happens, I ask for one thing — that all the bands on this put an amazing, amazing show on for the fans; that's all. Everyone's having fun. 'Cause we want the fans to have fun, but I wanna have the time of my life too."
MÖTLEY CRÜE have collectively agreed to rip up the "cessation of touring" contract that they signed back in 2014 preventing any of them from performing under the band's name in the future.
Almost 6 years after signing a "cessation of touring" agreement, the MÖTLEY CRÜE contract is off the table because a whole new generation of Crüeheads are relentlessly demanding for the band to come back together," band said in a statement. "Following the huge success of their Netflix biopic The Dirt, MÖTLEY CRÜE has seen a massive surge in new audience. And the band best known for breaking the rules has destroyed their cessation of touring contract in true MÖTLEY CRÜE fashion, by literally blowing it up.
After 35 years together on stage, and 30 years since the release of "Dr. Feelgood", the members of MÖTLEY CRÜE parted ways without speaking to each other after their final show on December 31, 2015. Vince Neil, Nikki Sixx, Mick Mars and Tommy Lee didn't come together again until 2018 to participate in the making of The Dirt movie, which unexpectedly brought them closer together again including seeing them head back into the recording studio after having gone in their own directions for several years. The fuse was lit.