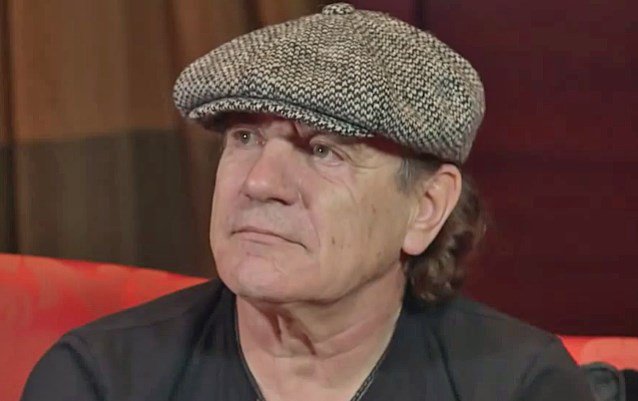 During a recent appearance on "Loudwire Nights," AC/DC singer Brian Johnson and bassist Cliff Williams talked about the band's former drummer Chris Slade, who was formally still a member just until recently when band's comeback was announced with Phil Rudd sitting behind the kit.
Earlier this month, Aussie rockers have released the first official photo of its reunited lineup, featuring singer Brian Johnson alongside drummer Phil Rudd, bassist Cliff Williams and guitarists Angus and Stevie Young.
In an interview with Rolling Stone this past August, Slade said about his status in AC/DC: "To my absolute knowledge, and this is me being absolutely honest, I am the current drummer in AC/DC. [Laughs]
"It may sound deluded to some people. I've said that before in interviews and people have gone, 'The man is deluded. He's lost it. He doesn't know what he's talking about.'
When asked about Slade's statement and whether the drummer was "ever notified that there was a new album being made without him," Johnson responded: "I don't know, that's the first I've heard of this. I would have imagined Chris would have known that — Chris stood in for Phil very admirably, did a great job, but as you know, Phil got himself into some trouble, but he's AC/DC's drummer, really, always has been.
"And you know, that's a difficult one. I hadn't heard that, so I can't comment on it really too much."
Williams added: "I've not heard that either. In the past, Chris has been hired to come in and do the job, so that's been the premise of the whole thing. I didn't know that he feels that he's the drummer."
AC/DC will release its long-awaited new studio album, PWR/UP, on November 13.