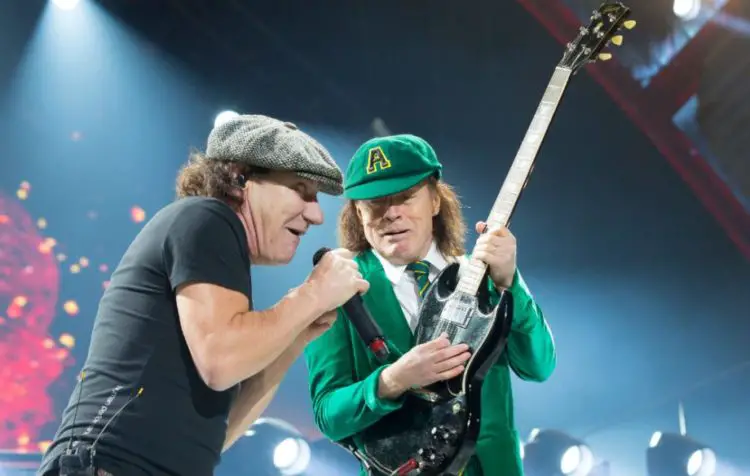 AC/DC lead singer Brian Johnson has expressed his excitement about the possibility of touring again in support of their 2020 album Power Up. The band's planned appearance at the Power Trip festival in California this October has sparked hope for more shows. Johnson discussed the challenges the band faced in getting back together after the pandemic hit in early 2020.
AC/DC's last live show was over seven years ago, but they are set to headline the Power Trip festival in California this October. Johnson hinted that this show could lead to more AC/DC performances. The band had been gearing up to promote their 2020 album Power Up before the pandemic hit.
"I'm so excited because three years ago we did get together [before] Power Up the album came out," Johnson said in a new interview on Fuelling Around podcast.
"We started to rehearse in Amsterdam. Phil [Rudd] was back on drums, I had this new earpiece that we'd invented. It was fantastic. Honestly, I've never heard the band so tight. For three weeks, I think we had one day off because we wanted to be there in each other's company.
"We f**ked up a few words, chords and just got them tight again and then our tour manager came up and said: 'Hey listen guys, we've got this thing, it's called the Chinese Flu or some kind of s**i, just go home for six weeks and we'll meet again in London'.
"You know what happened there. Angus [Young] and Phil, New Zealand and Australia just wouldn't let them out for months and months afterwards."
"It does take a lot of time to get a band like AC/DC together again. Most of the crew were out working with other people," he added. "Trying to get those guys back together again was tough but I've got my fingers crossed – everything is going ok. The most important thing about it all is the eagerness we all feel, the juices are running again."
Johnson expressed his anticipation for the upcoming Power Trip festival in October, which will feature performances from Ozzy Osbourne, GUNS N' ROSES, METALLICA, TOOL, and IRON MAIDEN.
"We decided to do this wonderful show that they've put together out in the desert near Palm Springs, near Coachella," Johnson said. "It's all rock and roll bands. It's fantastic. I think it's just a statement to say that rock and roll is a legitimate form of music. It really has made a difference. Ozzy [Osbourne] is coming out of retirement so I'll be able to see my old pals again. The GUNS N' ROSES boys, the METALLICA boys and the IRON MAIDEN boys — all in one field. Boy, what a party!"
"It's going to be in a beautiful valley, near Coachella, but I don't get involved in that kind of thing. I just like to turn up, get up and just rock my little socks off until I drop."