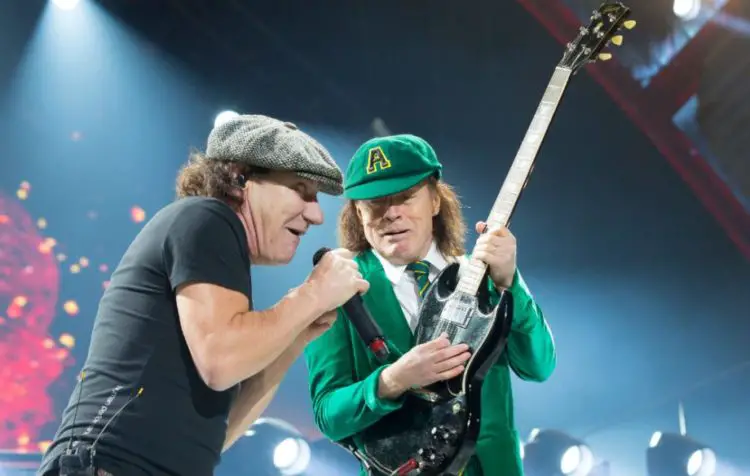 Brian Johnson and Phil Rudd are both back in AC/DC, it is confirmed by two respectable musicians.
BEHEMOTH mainman Adam "Nergal" Darski has confirmed to Loudwire that Johnson is back and that new album is also on the way.
"I know there's a new AC/DC album in the making with Malcolm Young," he said. "It's coming. It's going to be an outtake from Rock or Bust. What do I expect? I expect nothing more and nothing less, just give me f*cking rhythm and Angus and Malcom's guitar. Don't give me anything extra. [Brian Johnson] is back in the band."
TWISTED SISTER frontman Dee Snider has also confirmed the news on his Twitter, adding that Phil Rudd is back as well.
Responding to a fan asking if one of the classic AC/DC members was sick, Snider replied: "He died. RIP Malcolm Young. But all four surviving members have reunited WITH tracks recorded by Malcolm while he was still alive. Malcolm's nephew Stevie Young is replacing him (he's done this a couple of times before). It's as close as you can get to the original band. @acdc"
Back in January, TERRORIZER — which features in its ranks former MORBID ANGEL drummer Pete Sandoval — took to its Facebook page to recap the group's just-completed European tour. After praising the other bands on the trek and thanking its road crew, TERRORIZER wrote:
"We ran into Brian Johnson from AC/DC at the airport today after the flight home and we asked him about the rumors of him being on the new AC/DC album and he said 'yes' and that he is 'sick of denying it.' So that was a cool surprise ending to the tour."
Also, Eddie Trunk has said that "reliable sources" have told him that AC/DC is gearing up to tour again with Brian Johnson on vocals. He also said that the new AC/DC album will be a tribute to late guitarist Malcolm Young.
He said: "I have sources that told me they are absolutely going to tour with Brian back again. So, that is all unconfirmed from their camp, but I had it with some reliable sources.
"I think it's pretty much a done deal that AC/DC, at the very least, are going to release some sort of record, and it will be a tribute to Malcolm [Young], like Back in Black was a tribute to Bon [Scott]."