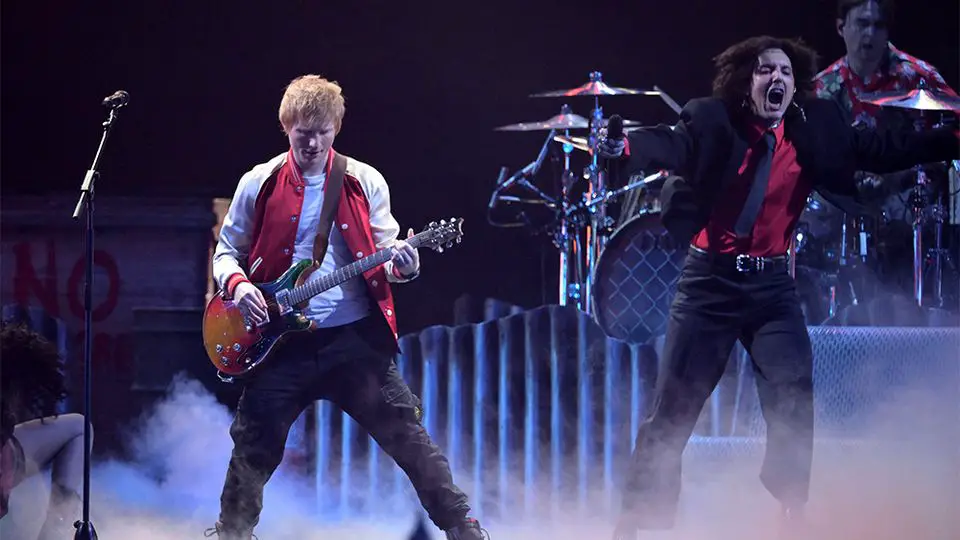 Following their recent performance at the BRITs earlier in the week, Ed Sheeran has confirmed that he's going to write a song with BRING ME THE HORIZON.
"We're going to write a song together," Sheeran told The Daily Star (via The List). "Playing with BRING ME THE HORIZON was a dream. I got in touch with [Oli Sykes] and we were going to write together but then the pandemic happened, so we were in touch — I've been a fan for a long time."
"Oddly enough that's the kind of music I grew up listening to and had a Kerrang! subscription and I listened to it constantly," he added.
Sheeran previously revealed that he is "not opposed to creating" death metal record.
"I was really into death metal as a kid," he said in an interview with The Sun earlier this year. "I listened to CRADLE OF FILTH and SLIPKNOT and all that stuff. I'm not saying I could ever step into that world. I learnt all those riffs on guitar as a kid. That's something I've never thought about doing — but something I would not be opposed to creating."
During an appearance on Rock Talk With Mitch Lafon, CRADLE OF FILTH frontman Dani Filth discussed the financial side of the band, while again saying he's been in touch with Ed Sheeran: "It's good enough, yeah, absolutely. But obviously, it's not about money at all. It would be contrived if it really was about that.
"And we have branched out. I've done some things with some strange bands — not 'strange,' but different from this, like with the 69 EYES, BRING ME THE HORIZON, and believe it or not, I've been in conversations with Ed Sheeran of all things about doing something.
"I love breaking convention, you know? I mean, it's quite easy for me to do some guest vocals on another extreme metal outfit's band, music, but I think the challenge and the combination of extremities is what I like, I think it really works. And that f*cks with people's perceptions, and that's what I think CRADLE OF FILTH's we're all about, really."