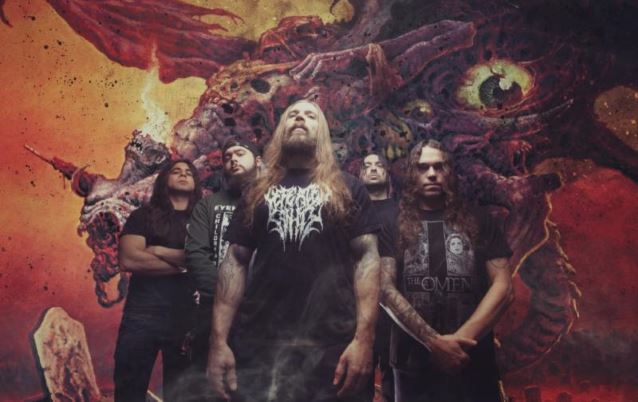 Chicago's BROKEN HOPE will be heading back to European shores this September as part of the bone-crushing HELL ON EARTH TOUR 2017 package. The band will be joined by young guns GLORYHOLE GUILLOTINE, Italian tech-heads HIDEOUS DIVINITY and the grindin' headliner, CATTLE DECAPITATION. Check out the tour dates below.
Jeremy Wagner commented on the forthcoming dates, "It's been a few years since we toured Europe–and BROKEN HOPE is more than excited to come back! And what an amazing way to return, especially with a sick and devastating tour package that has CATTLE DECAPITATION, BROKEN HOPE, HIDEOUS DIVINITY, and GLORYHOLE GUILLOTINE!!! We're playing some cities we've never done before on this run and we look forward to mutilating your ears and minds! We have assembled quite the setlist for this European tour. HUGE thanks to the CATTLE DECAPITATION guys and MAD TOUR BOOKING for having BROKEN HOPE this time! See you soon!"
The European / UK Tour Dates:
HELL ON EARTH TOUR
CATTLE DECAPITATION
BROKEN HOPE
HIDEOUS DIVINITY
GLORYHOLE GUILLOTINE
01.09. Weinheim – Café Central (Germany)
02.09. Amsterdam – Melkweg (Netherlands)
03.09. London – Underworld (UK)
05.09. Glasgow – G2 (UK)
06.09. Bristol – The Fleece (UK)
07.09. Brussels – Magasin4 (Belgium)
08.09. Torcy – Fall Of Summer (France)
10.09. Geneva – L'Usine (Switzerland)
12.09. Brno – Melodka (Czech Republic)
13.09. Wien – Escape Metalcorner (Austria)
14.09. München – Backstage (Germany)
15.09. Aarburg – Musigburg (Switzerland)
16.09. Brescia – Circolo Colony (Italy)
17.09. Graz – Explosiv (Austria)
20.09. Wiesbaden – Schlachthof (Germany)
21.09. Oberhausen – Helvete Metal Club (Germany)
22.09. Magdeburg – Factory (Germany)
23.09. Flensburg – Roxy (Germany)
24.09. Berlin – SO36 (Germany)
The tour is in support of the band's latest twelve track slasher, "Mutilated And Assimilated", which was released on June 23rd via Century Media Records.