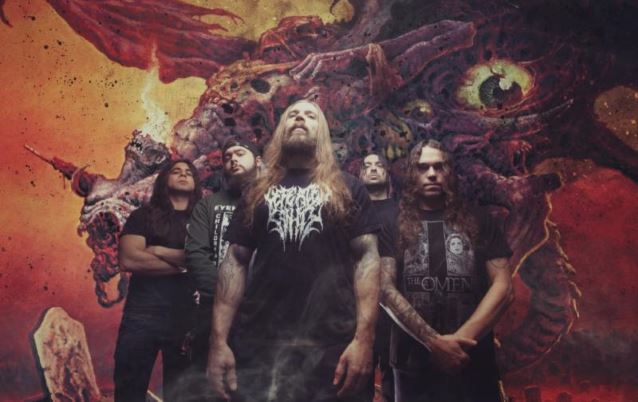 Horror aficionados BROKEN HOPE pay tribute John Carpenter's 1982 classic, The Thing with the worldwide premiere of title track, "Mutilated and Assimilated."
Directed by Tommy Jones, and featuring illustrated storyboards by Mark Rudolph; the infectious essence of brutal death metal details the decimation of the living in this gripping audio-visual recount.
Check out the official video for the track "Mutilated and Assimilated" below.
Guitarist Jeremy Wagner comments: "As you watch and hear, the story of a monstrous alien thawed out of Antarctic ice unfolds in pure horror with a death metal soundtrack. The video was directed by Tommy Jones, who uniquely wove in BH concert footage from Berlin with incredible storyboards by the great Mark Rudolph. Mark Rudolph worked hard to create these amazing storyboards–much like legendary artist Mike Ploog did for the original movie. Huge thanks to all our fans for waiting patiently for the new BH album. We hope you enjoy it! And remember: Only Death Is Real When Man Is the Warmest Place to Hide."
Pre-Orders for "Mutilated and Assimilated" are available now. You can pre-order here.
The full length album, "Mutilated and Assimilated" will be released on June 23, 2017 via Century Media Records. It's produced by Scott Creekmore. Available formats include a Limited Edition CD+DVD Digipak in North America and a Special Edition CD+DVD Digipak in Europe; as well as digital & streaming versions available on all the major outlets worldwide.
The LP version will be released in the following vinyl colours:
Gatefold "Peeled Flesh" neon pink LP+CD: US Exclusive
Gatefold "Antarctic" blue LP+CD: Band Exclusive
Gatefold "Cremated Corpse" black LP+CD: available via European stores
Gatefold "Gory Glory" transp. red LP+CD: CM Distro Europe Exclusive
Head over to Century Media's official store to pre-order black vinyl (limited to 300 copies) and exclusive transparent red vinyl (limited to 100 copies) here.
"Mutilated and Assimilated" tracklist:
01. The Meek Shall Inherit Shit (02:48)
02. The Bunker (03:28)
03. Mutilated and Assimilated (03:31)
04. Outback Incest Clan (02:31)
05. Malicious Meatholes (03:50)
06. Blast Frozen (01:58)
07. The Necropants (03:14)
08. The Carrion Eaters (03:07)
09. Russian Sleep Experiment (03:15)
10. Hell's Handpuppets (02:48)
11. Beneath Antarctic Ice (01:25)
12. Swamped-In Gorehog (06:21)