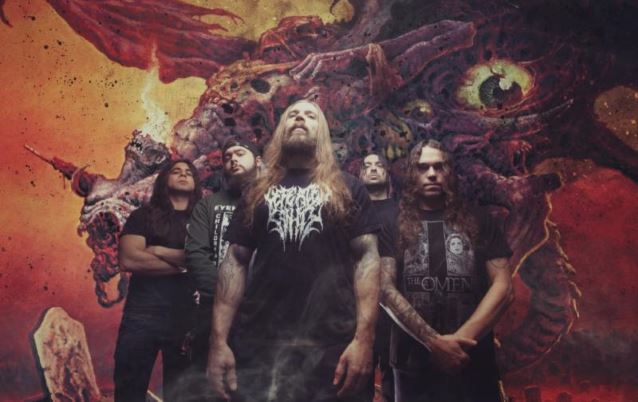 US death metal commando BROKEN HOPE have released a sick new 360 degree video for "The Meek Shall Inherit Shit", another track from the much anticipated new album "Mutilated and Assimilated", to be released on June 23, 2017 via Century Media Records!
Check out the new video below.
As a change from the blood-soaked horror-themed lyrics, "The Meek Shall Inherit Shit" is a premonitory message about the increasingly irreversible dangers of global pollution.
Guitarist and songwriter Jeremy Wagner further explains: "'The Meek Shall Inherit Shit' is a song I've been wanting to write lyrically for some time. I'm an environmentalist–a guy who considers environment, rather than heredity, as the primary influence on the development of human beings. Homo sapiens are living in a shitpile. We constantly foul our nest, we are killing the planet, and we cause up to 2,000 extinctions every year. Look, I don't want to get all hippy and political here. I just love the natural world so much and I hate what's being done to it. It fucking pisses me off! And you can hear my anger in the lyrics and the music of this track."
BROKEN HOPE once again tapped director Tommy Jones for the making of this 360° clip who also directed the lyric video for the album's title track, where he incorporated live footage of BROKEN HOPE in Berlin with storyboards by illustrator Mark Rudolph. Watch the lyric video of the title track here.
Album formats include CD+DVD Digipak (incl. "Live At Obscene Extreme" gig as extra) as well as digital & streaming versions available on all the major outlets worldwide. Pre-order of new album is available here.
The LP version will be released in the following vinyl colours / limitations:
300x Gatefold "Peeled Flesh" neon pink LP+CD
300x Gatefold "Antarctic" blue LP+CD: Band Exclusive
300x Gatefold "Cremated Corpse" black LP+CD: available via European stores
100x Gatefold "Gory Glory" transp. red LP+CD: CM Distro Europe Exclusive