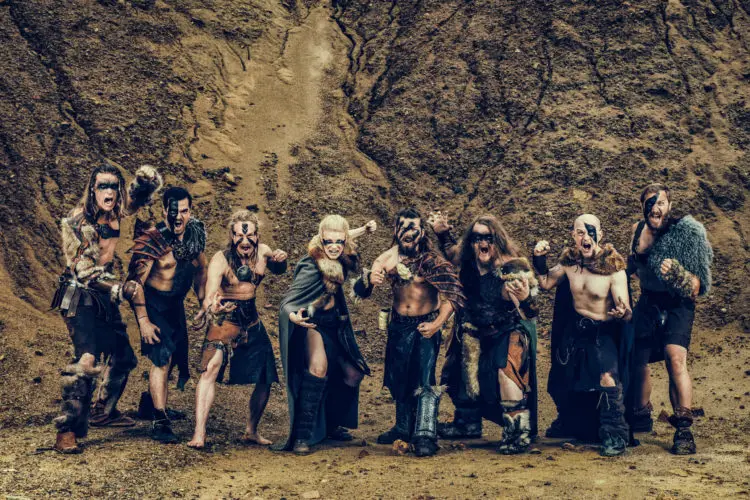 The hype is real! One must have lived under a rock to not hear of this amazing new band from Falun, Sweden: BROTHERS OF METAL are an extraordinary 8-piece which is taking the Metal world by storm. Their initially self-released debut 'Prophecy Of Ragnarök' was officially made available by AFM Records in November 2018, and it became a bestseller right away. On top of that, the album's songs were streamed more than 30 million times (!), which is a huge number for a Metal band, let alone a group still in its early career stages.
Therefore, anticipation and expectations are equally high – and following up a hit debut like "Prophecy Of Ragnarök" for sure is not an easy task. Though, BROTHERS OF METAL prevail in this battle and their masterfully crafted new weapon "Emblas Saga" will pave them the way to a lot more future victories. The songs are even more creative, interesting and exciting than before. Symphonic pieces have enriched the band's sound and the overall it's still just as catchy and hymn-like. Best example is the stomping first single "Njord," which comes in shape of a music video too.  A little less heavy but offering earcandy at its best is "One," which will also be accompanied by a video and makes all three vocalists (Joakim Lindbäck Eriksson, Ylva Eriksson and Mats Nilsson) shine. The band once again takes the listener to the realm of Northern Mythology and Viking Sagas. On this trip mystical entities such as Hel, Freya, as well as Thor and his magical hammer, Mjölner cross the way. For the "Emblas Saga" cover artwork, the band was once again able to secure the services of Peter Sallai (Amon Amarth, Sabaton).
 The album will be released on January 10th, coming as Digipak, ltd. colored double-Vinyl and ltd. box set (1000 units; contains leather gauntlet/wristband with embossed "Brothers Of Metal" logo, special booklet with liner notes (A5 format), Digipak, signed autograph card).
Fresh off triumphant festival gigs at Sweden Rock festival and Germany's Rockharz & Rock Am Stück festivals, the buzz is stronger than ever – not only for new material but also live concerts. And again, the band is heeding the call, announcing their first tour – a headlining tour right away – which will kick off almost exactly with release of  "Emblas Saga" on January 9th in Hamburg, Germany. BROTHERS OF METAL will be joined by their labelmates, Italian folk power metallers Elvenking, on this leg.
Read our review here.