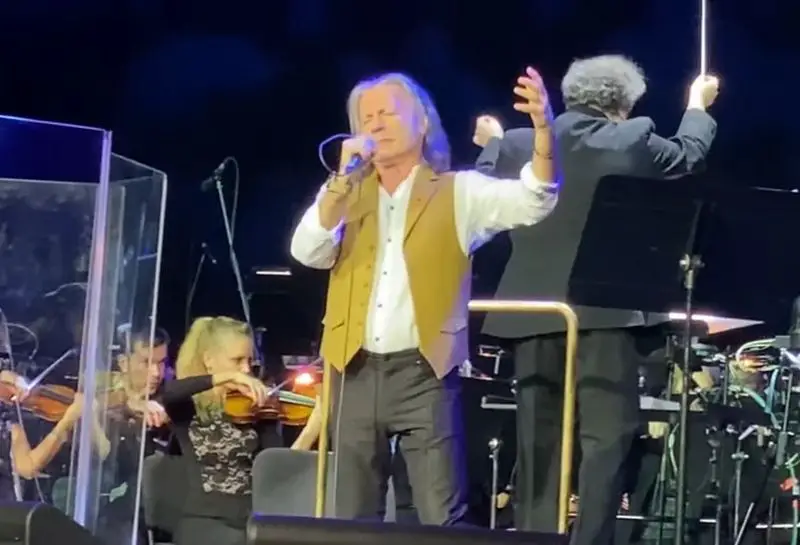 Below is a recently released video featuring Bruce Dickinson, the lead singer of IRON MAIDEN, rehearsing an orchestral rendition of "Tears of the Dragon," which was the first single from his second solo album, Balls to Picasso, released in 1994.
During March and April, Dickinson is set to participate on nearly a dozen shows where Jon Lord's "Concerto For Group And Orchestra" will be performed. The concerts will be conducted by Paul Mann, a friend of Jon's, and will feature an 80-piece symphony orchestra. The orchestra will be formed from members of OSESP (Orquestra Sinfônica do Estado de São Paulo) and other prominent symphony groups in the country.
They will appear alongside Kaitner Z Doka (JON LORD, IAN PAICE, DON AIREY) on guitar, Bernhard Welz (JON LORD, DON AIREY) on drums, John O'Hara (JETHRO TULL) on keyboards, Tanya O'Callaghan (WHITESNAKE) on bass and Mario Argandonia (SCORPIONS) on percussion.
The dates are as follows:
March 15 – Sala Palatului, Bucharest, Romania
March 18 – National Palace Of Culture, Sofia, Bulgaria
March 19 – National Palace Of Culture, Sofia, Bulgaria
March 22 – Sports Hall Mirza Delibasic, Sarajevo, Bosnia-Herzegovina
March 24 – Hall Drazen Petrovic, Zagreb, Croatia
March 25 – Cancarjev Dom, Ljubljana, Slovenia
April 02 – Hala University Palacheho, Olomouc, Czech Republic
April 15 – Vibra, Sao Paulo, Brazil
April 19 – Teatro Positiva, Curitiba, Brazil
April 21 – Vivo Rio, Rio De Janeiro, Brazil
April 25 – Auditorio Araujo Vianna, Porto Alegre, Brazil