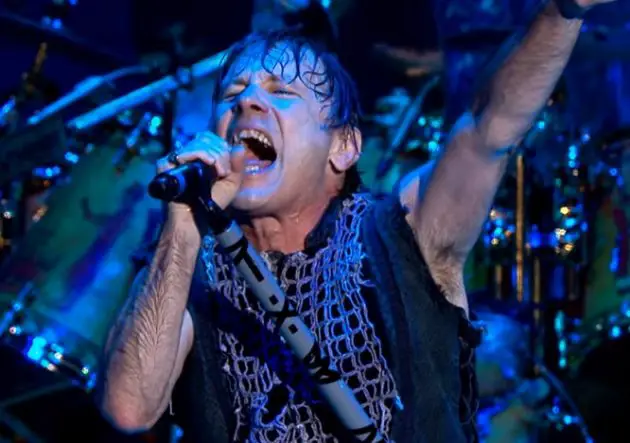 Bruce Dickinson was forced to stop IRON MAIDEN's concert at the Tacoma Dome in Washington last night (5th September) after he noticed a fan being beaten by 'ten security guards' at the front.
"We've got an IRON MAIDEN fan backstage who's had the sh*t kicked out of him by ten security guards," Bruce addressed the crowd.
"I saw one security guard lean over the barrier and punch a kid half his size in the face four times."
"There were ten people. TEN people!", he continued. This is not the f*cking Mixed Martial Arts. If it was the Mixed Martial Arts you'd have a referee y'know. This is not that.
"We've played to several hundred thousand people so far on this tour. This is the first time anything like this has happened. I don't know if this happens in this building all the time, I don't know if this is an act of f*cking madness, and I hope that kid is getting hospital treatment now because he's bleeding from head wounds. I hope that kid takes this building to the f*cking cleaners.  
Bruce added: "If anybody has any footage – camera footage – or anything then we would be pleased to help facilitate it to find the bullies and the f*cking criminals who are responsible. It's not big, it's not clever, it's just called 'bullying', it's as simple as that. So this is a very appropriate song, it's called 'The Evil That Men Do'"
Fan-filmed footage of Bruce's speech can be seen below.