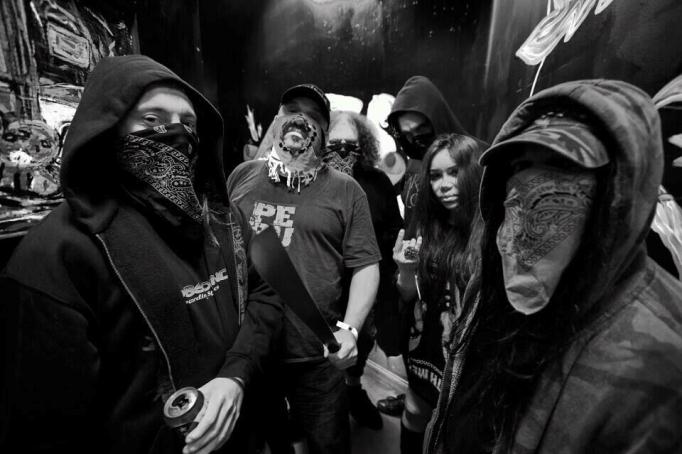 Extreme metallers BRUJERIA will release their fourth full length album, entitled "Pocho Aztlan", on September 16 via Nuclear Blast Entertainment. The release will be followed by a US tour this October alongside CATTLE DECAPITATION and PIÑATA PROTEST.
"Pocho Aztlan" is the band's first release since "Brujerizmo" was released in 2000 via Roadrunner. It was recorded over the course of many years and at several studios around the globe. The end result was mixed by Russ Russell (NAPALM DEATH, THE EXPLOITED).
Check out the track video for the song "Viva Presidente Trump!" below.
The track comes from their recent 7″ release by the same name, which is now available for purchase digitally on iTunes, Amazon and Google Play. Purchase the single here.
Tour Dates:
2016-07-05 Kranj (Trainstation Subart), SI
2016-07-06 Wien (Escape Metal Corner), AT
2016-07-07 Viveiro (Resurrection Fest), ES
2016-07-08 München (Backstage), DE
2016-07-09 Torgau (In Flammen Open Air), DE
2016-07-11 Ostrava (Barrack Music Club), CZ
2016-07-12 Bratislava (Randal Club), SK
2016-07-13 Rasnov (Club Rockstadt), RO
2016-07-14 Trutnov (Obscene Extreme Fest), CZ
2016-08-07 Santo Domingo (Escenario 360), DO
2016-09-18 Las Vegas, NV (LVCS), US
2016-10-01 Baltimore, MD (Soundstage), US
2016-10-02 Boston, MA (Brighton Music Hall), US
2016-10-03 New York, NY (Gramercy Theatre), US
2016-10-04 Philadelphia, PA (Voltage), US
2016-10-06 Cleveland, OH (Agora Ballroom), US
2016-10-07 Chicago, IL (Reggie's), US
2016-10-08 Minneapolis, MN (Cabooze), US
2016-10-09 Kansas City, MO (Riot Room), US
2016-10-10 Denver, CO (Bluebird Theater), US
2016-10-12 Seattle, WA (Studio Seven), US
2016-10-13 Portland, OR (Hawthorne Theater), US
2016-10-14 Oakland, CA (CA Deathfest), US
2016-10-17 Los Angeles, CA (The Roxy), US
2016-10-18 San Diego, CA (Brick By Brick), US