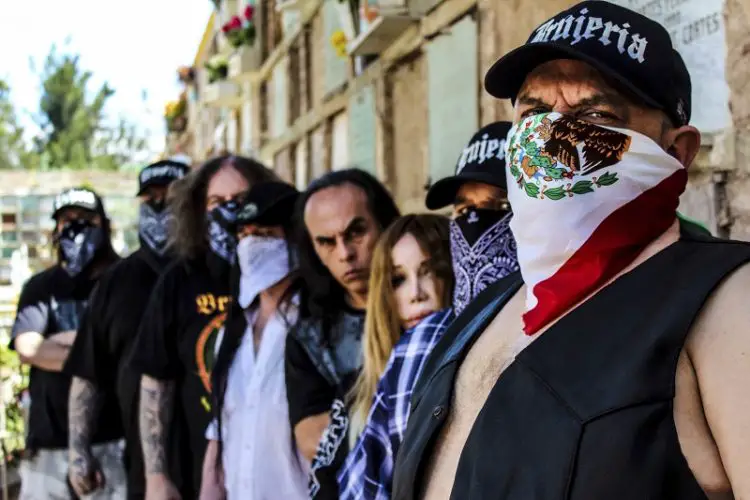 BRUJERIA have released a brand new single as a follow-up to their infamous "Viva Presidente Trump!" seven-inch.
The single's title track, "Amaricon Czar", can be streamed below.
"Amaricon Czar" track listing:
01. Amaricon Czar 
02. Lord Nazi Ruso
In addition, BRUJERIA has announced a 23-date European run for May, kicking off at Netherlands Deathfest in Tilburg on May 3. Special guests on the tour will be VENOMOUS CONCEPT (U.S./U.K.). The opening support will come from AGGRESSION (Canada) as well as SANGRE (U.S.).
Tour dates:
May 03 – NL Tilburg – Netherlands Deathfest* 
May 04 – NL Sneek – Het Bolwerk 
May 05 – B Roeselare – De Verlichte Geest 
May 06 – D Hanover – MusikZentrum 
May 07 – D Bremen – Tower 
May 08 – D Berlin – Cassiopeia 
May 09 – CZ Brno – Melodka 
May 10 – CZ Prague – Futurum 
May 11 – D Munich – Feierwerk 
May 12 – A Dornbirn – Schlachthaus 
May 13 – CH Sion – Le Port Franc 
May 14 – I Rome – Traffic Live Club 
May 15 – I Milan – Legend Club 
May 17 – F Colmar – Le Grillen 
May 18 – F Paris – Petit Bain 
May 20 – UK London – The Underworld Camden 
May 21 – UK Manchester – Rebellion 
May 22 – UK Glasgow – Cathouse Rock Club 
May 23 – UK Birmingham – Mama Roux's 
May 24 – F Dommarien – La Niche 
May 25 – D Mannheim – MS Connexion Complex 
May 26 – D Essen – Turock
* BRUJERIA only