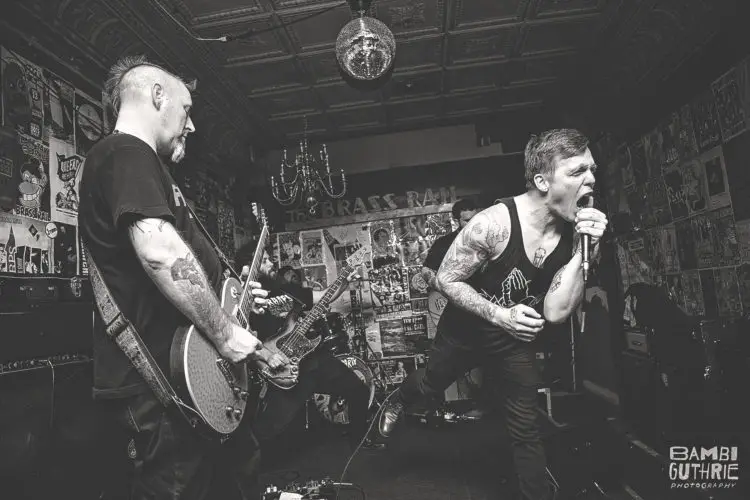 Sometimes life breaks. Debt piles up, work just pays the bills, struggle and toil leads to existential crisis instead of enlightenment. That's where Burial Party guitarist Dan Kinnaley found himself in 2017. Catharsis came in the form of listening to records from Fugazi, Refused, Jawbox, Tragedy, and Converge.
He picked up his guitar for the first time in years, writing big riffs that were noisy and abrasive, anchored with a heavy dose of melody and placed in traditional song structures for maximum impact. Encouraged by the results, Dan threw together a few demos in his basement, and sent them to Northeast Indiana scene veterans Adam Lewis, drums, and John Cheesebrew, vocals, hoping they would hear something in the music and help bring his basement demos to life, breaking down and rebuilding the songs until they were a reflection of their collaboration.
The burgeoning band added Justin Weiks on bass and Ben Larson on guitar, and started writing songs that were a product of the push and pull between melody and dissonance, the looseness and chaos of hardcore, proto-punk, and noise rock, and the structure of pop by way of alt-rock and post-hardcore. Burial Party played shows opening for MDC, Fireburn, and La Armada, and performed at the Fort Wayne Museum of Art during the opening for an exhibition featuring the works of the Outlaw Printmakers.
Ben amicably departed in the fall of 2018, and Eric Rutkowski joined in time to record Burial Party's debut 7" "Please, Electric Move Slow" with Jason Davis at Off The Cuff Recording in Fort Wayne. The record was recorded straight to tape, created without the assistance of Pro-Tools, ensuring the performances are tight and real, an accurate representation of what you can expect when you see the band live.  "Please, Electric Move Slow" was mastered by Collin Jordan of Boiler Room Mastering whose clients include the likes of Eyehategod, Voivod, and Windhand. It features four tracks of smart, deliberately crafted post-hardcore that in turn brings to mind the DC scene of the 80s and 90s, the dissonant melodicism of the best of Amphetamine Reptile, and the swagger of rock and roll.
Burial Party are self-releasing the 7" in July 2019, supporting it with shows around the Midwest, and continuing to write and record.
Read our review here.