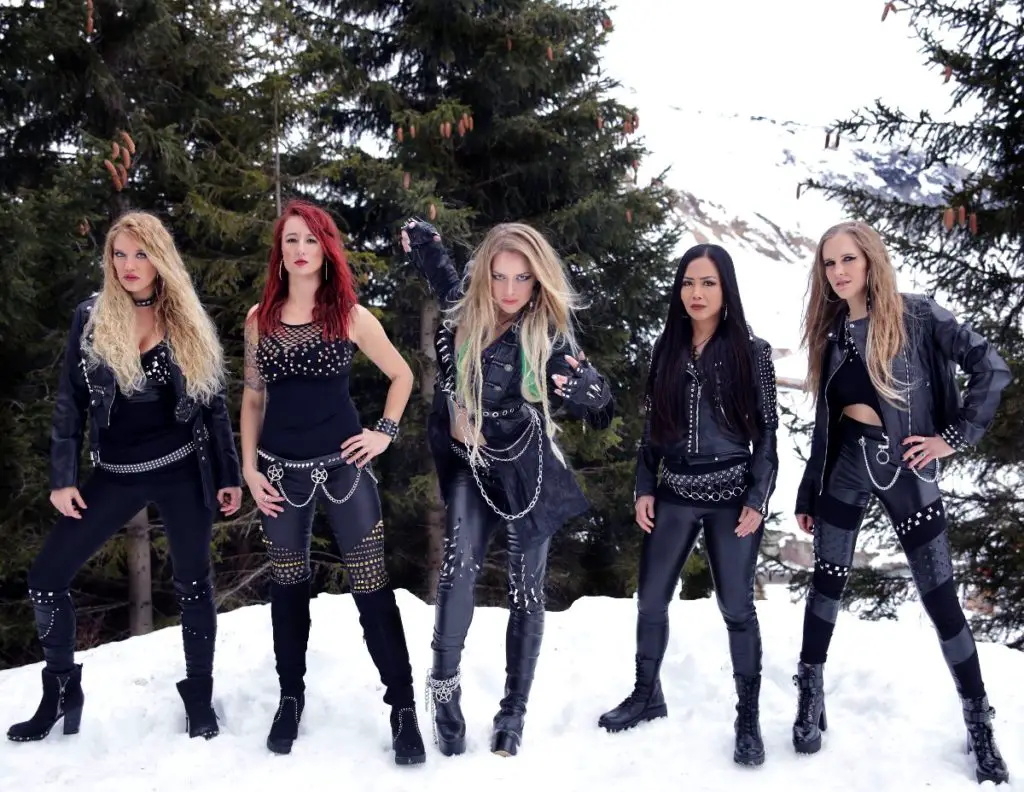 Heavy metal coven BURNING WITCHES is pleased to announce that they will stream a release show for their fantastic new album, "The Witch Of The North," on Friday, May 28th at 8.00pm CET. The stream will be free of charge and accessible for fans all over the world. However, if you want to show the band your support, you will be given the opportunity to buy different kinds of 'support tickets'. So, mark the date in your calendars and prepare to get blown away once more by one of the most exciting new bands in heavy metal today!
BURNING WITCHES comment:
"We want to give the release of our new album "The Witch of the North" a special kick, by uniting all our fans worldwide for a free stream on this special day! Let's make it a day to remember! 
Tune in on the 28th of May for this online concert, it will be a magical night on release day! Thanks for the great support – we hope to meet you all on tour very soon! Your favorite WITCHES! "
BURNING WITCHES
THE WITCH OF THE NORTH – Release Show Live Stream
Friday, May 28th, 2021
20.00h CET – 7.00pm GMT – 2.00pm US Eastern – 11am US Pacific 
YOU CAN ACCESS THE STREAM HERE.
If you haven't yet, check out the band's music video for the new album title track "The Witch Of The North" here.
Pure witchery: barely twelve full moons after the release of their third opus, Dance With The Devil, BURNING WITCHES return steeled and superior with The Witch Of The North, their most fiery and thunderous work to date. An album equipped to become a modern metal classic, a work of reference for honest, true steel. It's obvious: anyone who manages to deliver such a Witch Hammer after just one year has to have the magic touch. Black magic that is!
The Witch Of The North Track Listing:
1. Winter's Wrath
2. The Witch Of the North
3. Tainted Ritual
4. We Stand As One
5. Flight Of The Valkyries
6. The Circle Of Five
7. Lady Of The Woods
8. Thrall
9. Omen
10. Nine Worlds
11. For Eternity
12. Dragon's Dream
13. Eternal Frost
The cover was created by Chilean artist Claudio Bergamín (i.a. JUDAS PRIEST's Firepower and BATTLE BEAST) and it sets the mood for the enthralling journey through enchanted forests and across snow-capped mountain tops that is: The Witch Of The North.