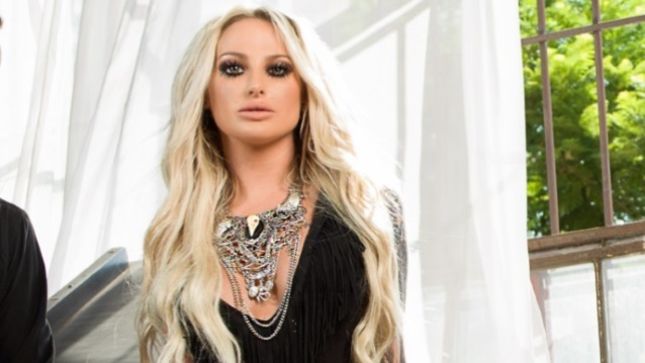 BUTCHER BABIES frontwoman Heidi Shepherd has praised the new sports drama "Ford v Ferrari", which tells the story of Ford Motors' efforts to compete with Ferrari.
"I cried last night. Granted I cry in most movies. This one really hit though. Ford vs Ferrari," she wrote on Instagram.
"In the music industry I've been told that my image isn't right for this or that since I began. In my early 20's a scout wanted me to cut & dye my hair, wear no make up and say I was 19. I was going to be their country star. But he wouldn't do anything with who I really was. There was/is no place for me in rock&metal music.
"I've been fighting this exact battle for almost 15 years now. My image! My 'image' doesn't fit here or doesn't work there. In film I was always told to tone down me, my image. In athletics, I was told that I was too short to be a high jumper; took 5th in the world. Too tall to be a cheerleader; cheer paid for my college. Always told that my image wasn't good enough.
What is my image? I'm unapologetically me I guess. And yes, a lot has changed in ME over all these years. What hasn't, is my dream and drive.
"I'll tell you what I see my image as," Heidi continues. "I'm a 34 yr old woman from Provo, Utah. I grew up Mormon- a religion that told me what to look like, how to act, how to dress, how to speak, how to breathe, how to love and how to live! I got married in their temple at a young age even though I knew that this wasn't right for me. I was forced into a belief that this is how life is and if you go against the grain, you are left with nothing. No family, no friends, no support, NOTHING! Still, I had a dream. I packed up my sh*t with no money and decided that I have one life to live and this wasn't it chief.
"From a life of suppression to a life of freedom where everyone told me that I would fail. People in that town STILL tell my siblings to 'not end up like Heidi.' The F*ck?!
"My image… a girl that was told over and over again 'this is where you belong, that is where you don't belong.' A girl who is constantly told NO NO NO, yet constantly proves YES YES YES.
"I'll never stop proving that my image is something that I am proud of," she added. "My image is a positive story of how a person is repeatedly told that they'll fail yet they work hard, fight and sacrifice everything to win!
"So yeah, that movie hit me pretty hard… You should see it. Plus, fast cars!!!"