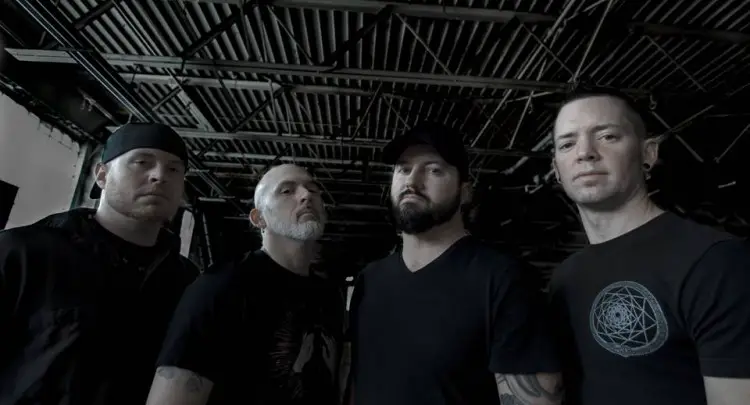 BYZANTINE will release their new album, "The Cicada Tree" on July 28th via Metal Blade Records. Heralded as the most underrated band from the New Wave of American Heavy Metal Movement, BYZANTINE has slowly gained a cult-like following after releasing 5 genre-bending albums. 16 years underground, it's finally time for the world to hear BYZANTINE! For a preview of "The Cicada Tree", check out the new lyrics video for the single "Trapjaw" below.
To watch the video for the previous single, 'New Ways to Bear Witness', please visit metalblade.com/byzantine – where the record can also be pre-ordered in the following formats:
–CD
–180g black 2LP + etching (limited to 150 copies – USA exclusive)
–peach orange marbled 2LP + etching (limited to 350 copies – USA exclusive)
–clear pastel rose 2LP + etching (limited to 100 copies – EU exclusive)
* exclusive bundles with a shirt, plus digital options are also available!
To state that "The Cicada Tree" is "classic BYZANTINE" in no way implies that this is an album solely rooted in the band's past. Certainly, all of the hallmarks that have made their sound so compelling for close to two decades are present and correct: muscular yet lithe riffs and fluid leads play against gripping, dynamic and at times unpredictable rhythms, while rich melodies and lyrics that are both involved and intelligent wind their way through every track. But, once more, the groove metal unit has continued their steady evolution – the interplay between their members organic and natural, imbuing the record's sixty-two-minute running time with a freshness and urgency.
Founding member Chris "OJ" Ojeda states: "The first few albums, you're trying to find your sound, and sometimes you tend to not see the forest for the trees. Now, on album number six, it seems a calmness took hold during the songwriting process, possibly from just having more confidence in our sound. At this point, our fans expect us to experiment and push our boundaries, which is an extremely liberating feeling."
"The Cicada Tree" Track-Listing:
1. New Ways to Bear Witness
2. Vile Maxim
3. Map of the Creator
4. Dead as Autumn Leaves
5. Trapjaw
6. The Subjugated
7. Incremental
8. The Cicada Tree
9. Verses of Violence
10. Moving in Stereo (The Cars cover)
11. Servitude (Fishbone cover)