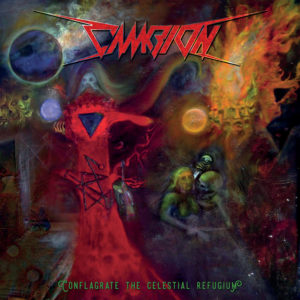 Siiick! Very siiiick! Incredibly siiiiick!
Here's an album that can be called sick by all means. It's like it's possible to see the filthy and gall draining from the player. The sensation of an intense darkness fills in the place and the fan inner self. Cambion completely change the conception of Brutal Death Metal by adding top-tier instrumentals "Conflagrate the Celestial Refugium." It's not only the playing fast as hell, but playing intricate as hell. Cambio do both here the fast as hell and the intricate as hell.
The insanity begins at the very seconds of "Conflagrate the Celestial Refugium" whose intro is a hallucinating guitar shread followed by an incredible blast beat at the speed of light. Those are two features that will be part of the album in almost all songs. Cambion don't leave the fan have a minute of calm and easy. By the way, what for? This is a Brutal Death Metal effort that we are talking about. Brutal and technical at the same time as drummer Chason Westmoreland and guitarist Thorben Rathje do out-of-this-world things with their instruments playing at an unimaginable velocity prohibited to common human beings. In my four years of Metal Addicts I've seen talented musicians, but, I have to say, not at this velocity. Realy impressive. And the more impressive is that Chason Westmoreland does all the time fillings and other drummer things. Hell of drummer, if you ask me. This sequence of multiple shooting is just amazing and very difficult to find even among Extreme Metal drummers who are used to do it. Relentless is a word that comes by my mind to explain what they do here. It's not only about the spanking, it's about how classy the spanking is. The beating only gives a break in the intro of "Obscuratio," a more cadenced track just in the beginning because the slamming goes on just a little slower. fantastic track, by the way. The instrumental track the album deserved.
The word havoc comes to mind as well every time Death Metal is mentioned, but what the fans sees here is totally unearthly. "Conflagrate the Celestial Refugium" an album to show all your friends that say Metal is pure musical mayhem.
Cambion "Conflagrate the Celestial Refugium" will be released o March 26th via Lavadome Productions.
Track Listing:
Conflagrate the Celestial Refugium
Vae Victis
Cambion
Cities of Brass
Eiton Euclarion
Impact Steel
Fatalitism
Obscuratio
Watch "Eiton Euclarion" official video here: