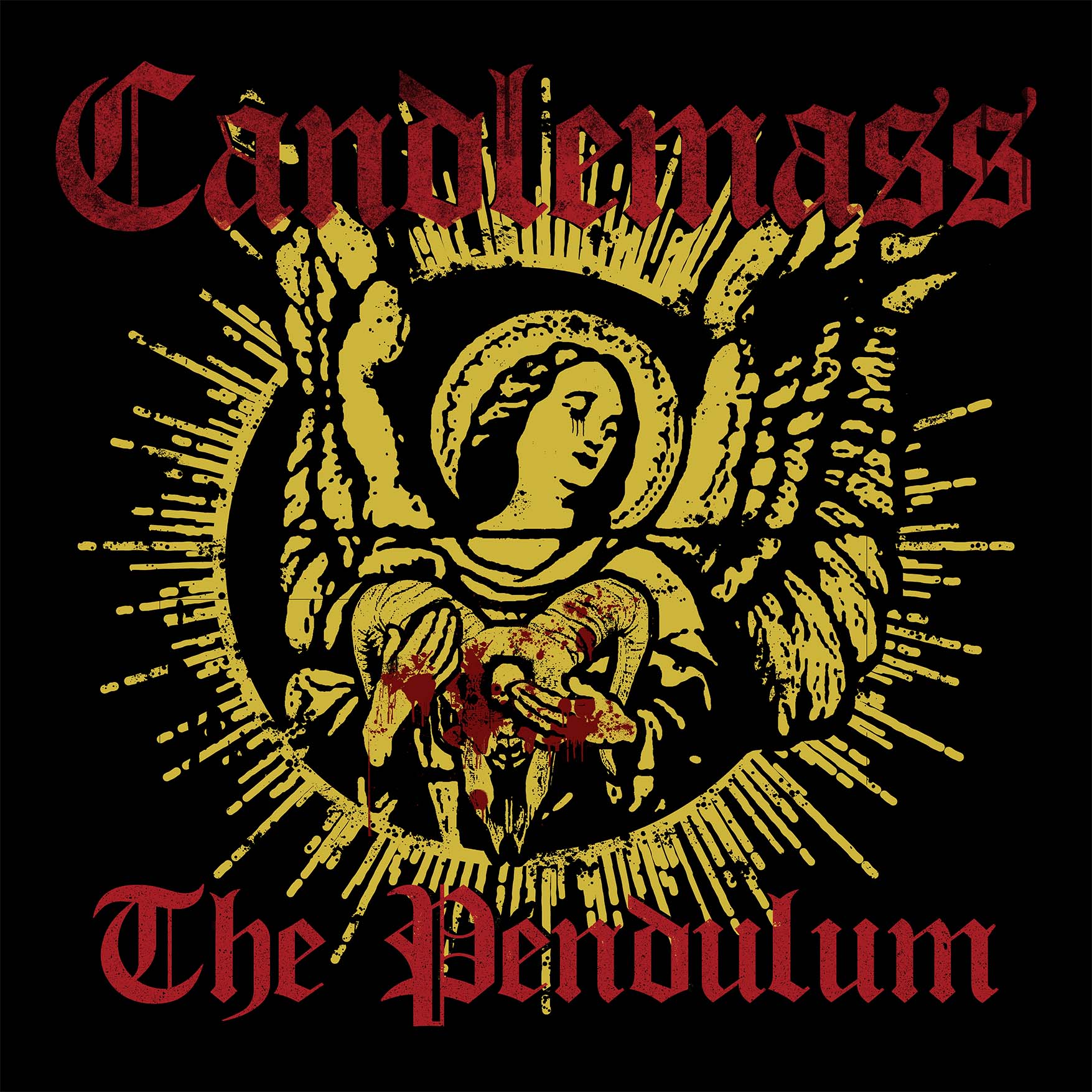 Doom metal pioneers Candlemass, release The Pendulum on the heels of their 2019 critically acclaimed The Door to Doom.  This new six track EP features three full length demo songs and three short jam session style pieces that are said to have been left on the cutting room floor during The Door to Doom album creation process.
For the Candlemass superfan, or anyone who loved The Door to Doom will find this EP a welcome addition to their collection.  The three full length tracks: The Pendulum, Snakes of Goliath, and Porcelain Skull are all songs that were clearly brewed for The Door to Doom album both thematically and musically.  If you enjoy current Candlemass you will find a familiar, heavy, bleak, fantastical despair that only these Swedes can bring to the table in this EP.
The title track The Pendulum opens with a short almost renaissance style acoustic intro.  It then in short order kicks in with chugging guitars, clobbering drums, and six string solos that wail with sorrow and reminds the listener that yes, this is Candlemass and yes, they came to kick ass.  As the song continues it is clear to see that it is a bit formulaic, but it is a formula that works.
Snakes of Goliath is an exercise in classic doom.  If you took Black Sabbath's Electric Funeral, Pagan Altars Black Mass, and threw them in a bubbling, black cauldron of hot Candlemassian mire, you'd get Snakes of Goliath.  This recipe yields a most potent potion of doom.
Porcelain Skull actually sounds like it should have made the cut for The Door to Doom album.  It has all the common hallmarks one could expect from Candlemass.  It dishes out shredding guitars with a rhythmic focus on minor chords and of course, double kick drums that are trademarks they have become known for.  No shortage here.
Whereas The Pendulum, Snakes of Goliath and Porcelain Skull are fully realized, complete songs; Subzero, Aftershock, and The Cold Room are all short, brainstorming jots that each clock in right around the ninety second mark.  To anyone who is interested in digging deeper and seeing behind the curtains of Candlemass' creative process, these works in progress may be hidden little gems.  However, these fleeting glimpses of incomplete songs may prove to be far too brief and unpolished for a casual listener.
Aftershock is a single instrument raw vignette consisting of grimy, distorted, and bone rattling bass.  It would be fascinating to see how it would translate into a finalized project.  
In contrast to the roughly hewn Aftershock, The Cold Room brings a quiet acoustic guitar whose audible string slides give it a simple honesty rooted in reality.  As the song develops, piano and violins join in to layer upon the guitar and helps make the sound grow with a feeling of anticipation.  Sadly the song builds up and ends there, leaving the listener uneasy and ready for more.  Hopefully that next album comes soon.
The Pendulum EP will prove itself a worthy appetizer for anyone looking to fill the void between full album releases by Candlemass.  It gives three full songs and three short musical sketches that die hard fans may find interesting.  The EP was a fun listen, its not going to change the world but will give some junkies the quick fix they need.
Track Listing:
The Pendulum
Snakes of Goliath
Subzero
Aftershock
Porcelain Skull
The Cold Room