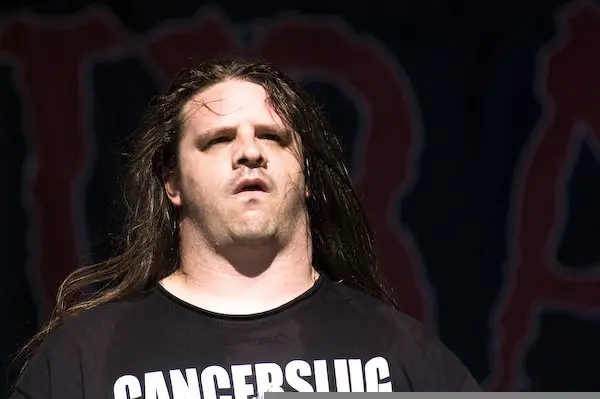 During a recent interview with Louder Sound, CANNIBAL CORPSE frontman George "Corpsegrinder" Fisher was asked if he ever gets sick of people asking him about his neck.
"No, it's part of me," he responded. "I can't be jealous of my neck — what would I do without it? Some women who in the adult industry have their money-makers. I sing in CANNIBAL CORPSE, and my neck's my money-maker. I spin my neck to make my money.
If you do a George Corpsegrinder word association with people, the first things they'll say is 'neck.' 'Neck' and 'headbanging.' They're not gonna say 'He's the greatest singer" they're gonna say 'his neck.' But, you know, there are worse things to be remembered for. I could be remembered for being a complete a—shole.
Elsewhere in the interview, Corpsegrinder was asked what music does he listen to when he needs a break from metal, to which he responded:
I listen to some soundtracks here and there. I love the soundtrack to the first Conan The Barbarian movie, by Basil Poledouris. The movie's great, but that soundtrack makes it — if you listen to it and close your eyes, you can see the movie.
"And I listen to a lot of old school country music," he added. "Me and our touring manager Johnny and our drum tech Chris are into old school country. We have a playlist we play on the tour bus: we've got some Dolly Parton in there, some George Jones, Waylon Jennings. Alex [Webster, bassist] will sit and tolerate it. But the rest of the guys are, like, 'Ugggh.'"
CANNIBAL CORPSE's new studio album, Violence Unimagined, is out today (April 16) via Metal Blade Records.