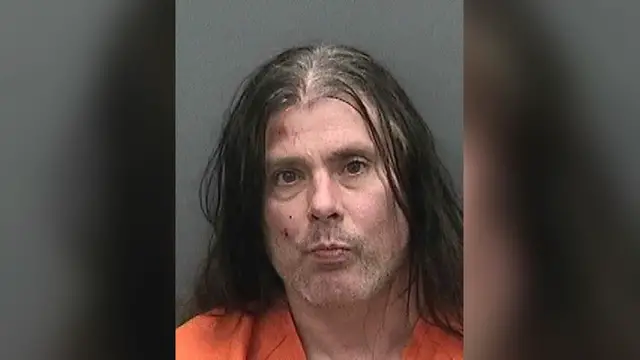 Patrick "Pat" O'Brien's neighbors didn't notice anything unusual about the CANNIBAL CORPSE guitarist in the days leading up to his arrest Monday on charges of aggravated assault on a law enforcement officer and burglary of an occupied dwelling with assault. Deputies say he burglarized a house and charged at a deputy with a knife.
He seemed "just like a regular neighbor," one person who lives on O'Brien's street told 10 News WTSP (see video below). "Get out of the car, go right into the house. That's about it."
Less than half a mile from where he was arrested, a fire broke out at O'Brien's home, sending flames billowing into the night sky from the roof. The exact cause of the blaze is unknown, but ammunition and "military-style flamethrowers" reportedly exploded inside the home during the fire.
"[It was] very scary," another neighbor told ABC Action News. "I was thinking 'my house, it's going to go if [the firefighters] don't hurry up and get here,' but they saved our house and we don't have any damage or anything."
"Everybody kind of stays to themselves," the first neighbor said. "Nobody really bothers anybody. Most of the people abide by [the proverb] 'good fences make good neighbors.' I mean, it's just crazy something like that happened so close to home."
According to the Hillsborough County arrest log, O'Brien was booked into the Hillsborough County Jail on Monday night after he entered a house near the Northdale Golf and Country just before 7:00 p.m. and ignored orders from the two people inside the home to leave. O'Briendidn't know anyone at the house and didn't have permission to be there, an arrest report states. A sheriff's office supervisor says O'Brien shoved a woman to the ground and then went into the backyard.
Deputies responding to the burglary found O'Brien hiding behind a fence near the house. They say O'Brien "ran towards" one of the deputies "with a knife in his right hand." Deputies then shot O'Brien with a Taser and arrested him.
The owner of the home where O'Brien was arrested wouldn't go on camera but told ABC Action News he thought the guitarist was hallucinating when he spoke to him about the "rapture" and claimed, "someone was after him." The homeowner added O'Brien seemed scared and at one point even hid in his closet.
At a first appearance hearing Tuesday morning, a Hillsborough County judge told the 53-year-old musician, clad in an anti-suicide vest with his hands and ankles chained together, that he must first pass a drug test before he will be allowed to post $50,000 bail and leave jail.