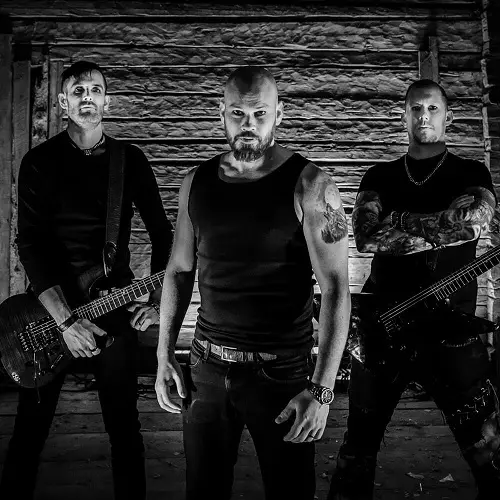 If Judas Priest and hit song writer Desmond Child would have a love-child, it would undoubtedly be a hideous creature with a sex appeal. Much like Carnal Agony. Hailing from northern Sweden, the band is on a mission to pick up the torches left behind by their musical heroes. Their incendiary blend of metal energy and pop melody, spiced up with classical comedy horror themed lyrics, is now ready to be unleashed upon the world.
Building on but further expanding the musical direction of debut album "Preludes & Nocturnes," the second album "Back From The Grave" is to be released July 10th 2020. With the first single, "Werewolf of Steel" (May 1st), and the second single,"Love Will Tear You Apart"(June 26th), paving the way as the perfect example of the aforementioned concoction of addictive melodies and relentless rhythms, anthemic stompers like "The Witching Hour" and fast-paced bangers like "Raise The Dead" will complete the aural assault.
With music and lyrics by Mathias Wallin, the 13 tracks were recorded at Studio Seven Sweden in Örebro by Ronny Milianowicz. Guitarist Pär-Olof Persson says: "'Back From The Grave' is written entirely for ourselves, to fulfill the need for the hard yet melodic metal that so few bands play nowadays. The kind that is perfect to swing a beer and chant along to with your friends, preferably on a muddy festival field." Mathias Wallin adds: "While the goal with 'Back from the Grave' never was to invent anything new, I think that our varied influences really shine through and result in a welcome addition to the metal scene." Vocalist David Johagen agrees: "The diversity of the album has really allowed me to explore different  approaches to singing. From air-raid vocals to evil snarling and everything in between, this album has it all. I particularly enjoyed channeling my inner Michael Bolton for the first time."
With the album the stage is set for the band to engrave the name "Carnal Agony" in the hallowed pages of metal history. Be sure to follow them on their triumphant journey back from the grave!
"Back From The Grave" is available at carnalagony.com and for streaming and digital download at all major digital services from July 10th.
Read our review here.