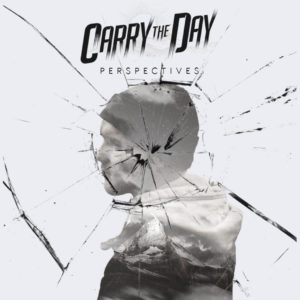 Under the label alternative lies lots of musical styles which in common have the pop verve which drives most of them. Labeling alternative was the way of the industry to make palatable Punk rock and Hardcore among other things. There are multiple examples of bands which were sweetened and watered by the industry just to make them palatable giving the label alternative. I won't quote any of them because they don't deserve it. I'm not the most ardent fan of alternative as many of you have noted, but always when I write about a band under that label I try to see the positve side of them and I always try to be fair.
That put, here we have Carry the Day and their EP "Perspectives" which turns out to be a very adrenalized and high-octaned album with very few of the flaws under the label alternative – gosh, and they're too many to address. In general, the cool alternative bands bounce between punk rock and Heavy Metal influences. The more Heavy Metal influences they show, the coolest their music is. Carry the Day manage this properly melding both. Songs as "Alive" have a strong Metal grip, others as "Better Days" have a vibrant punk rock attitude with some touches of those 1990s punk. If I had to choose only one track, I'd pick "Someone Else" for its adrenaline and its moody intro and Modern Metal influences.
Carry the Day are a band that carries the day – oops! – with this EP "Perspectives" and all its excitement and fun. What sparks the most is that Carry the Day sound as the real deal with six honest tracks what these days are already a blessing. It's really hard to accomplish all that ion days like we're living on.
Carry The Day "Perspectives" was independently released on August 23rd.
Track Listing:
Someone Else
Outcast
Silver Lining
See Clear
Alive
Better Days
Watch "Better Days" official musical video here: