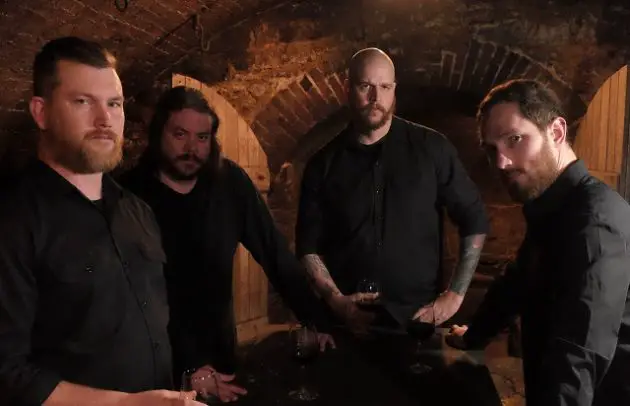 U.S. based blackened death metal unit CAST THE STONE, release a bass playthrough video for a new track "The Burning Horizon", which will appear on the band's upcoming six-track EP "Empyrean Atrophy", due out on August 31st via Agonia Records. The video, filmed by Paul McGuire (Obscenery Films) and starring the band's bassist Derek Engemeann (ex-Cattle Decapitation, Scour) can be seen below.
CAST THE STONE is Mark Kloeppel (Misery Index, Scour with Phil Anselmo), Derek Engemann (ex-Cattle Decapitation, Scour), Jesse Schobel (Legend, ex-Scour) and vocalist Andrew Huskey. First formations of the band began in 2002, long before its protagonists departed for their better known metal-scene mainstays. While such ties leave a clear mark, CAST THE STONE emerge not as some metal supergroup, but as a project of the original and purest intent of its membership.
Each of CAST THE STONE members is involved in writing music, and each has varying tastes. But they all seem to have one acquired taste in common: an appetite for American and Swedish death metal. On "Empyrean Atrophy", one can distinctly hear sounds similar to Dismember, Grave, At The Gates, and other proponents of the genre. There are also artisan elements one could liken to more dark and progressive Swedish acts such as Opeth, Edge Of Sanity and Dissection. Perhaps this reason alone, Dan Swanö was a clear choice for production (having produced or had been a member of some of the aforementioned bands).
Hybridizing the dark ferocity of Swedish death metal through a lens of American brutality, CAST THE STONE hits a creative stride with "Empyrean Atrophy". Guitarist Mark Kloeppel commented, "The band's sound is a testament to an enduring spirit that's driven us to return to our most organic influences, merge them together, incorporate disparate elements, and forge our own sound. Each person has a distinct sound unto themselves, so it's really cool how smooth and cohesive this stuff comes across. You can immediately hear how different this is from the other things we've been involved in, yet it's still very true to our individual styles. Our bassist Derek progressively weaves my guitars and Jesse's uber-creative drumming style together in a way that only he can. This is all crowned off by Andy Huskey's crazy death metal vocals which are… well, just listen".